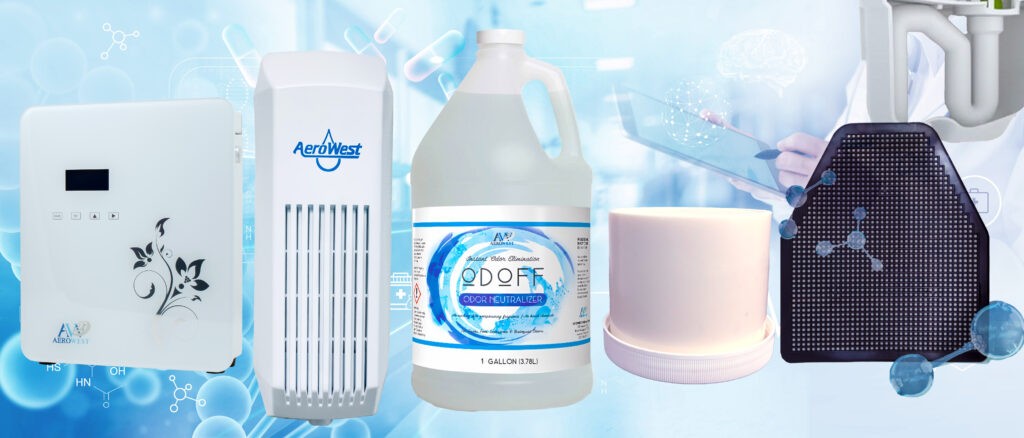 THE END OF ODORS
Create fresh, inviting spaces to attract and delight customers
Achieve a fresh, odor-free environment throughout your facility, from your restrooms, lobbies, meeting rooms, waiting rooms, common areas, and executive suites with best-in-class odor control solutions personalized to your needs.

Increase profitability, efficiency, and productivity with our custom odor control services. Take pressure off your team by letting us do the work for you.

Reach your facility's goals with our streamlined, non-disruptive odor eliminating services

Free your team to work on more pressing matters with our long-lasting, proven odor removal technology

Get automatic 24/7 toilet & urinal cleaning systems that continuously release cleaning, deodorizing, and descaling fluids into fixtures, keeping your restrooms fresh between janitorial cleanings
MAXIMIZE YOUR TEAM'S PRODUCTIVITY AND MORALE WITH ODOR SOLUTIONS THAT WORK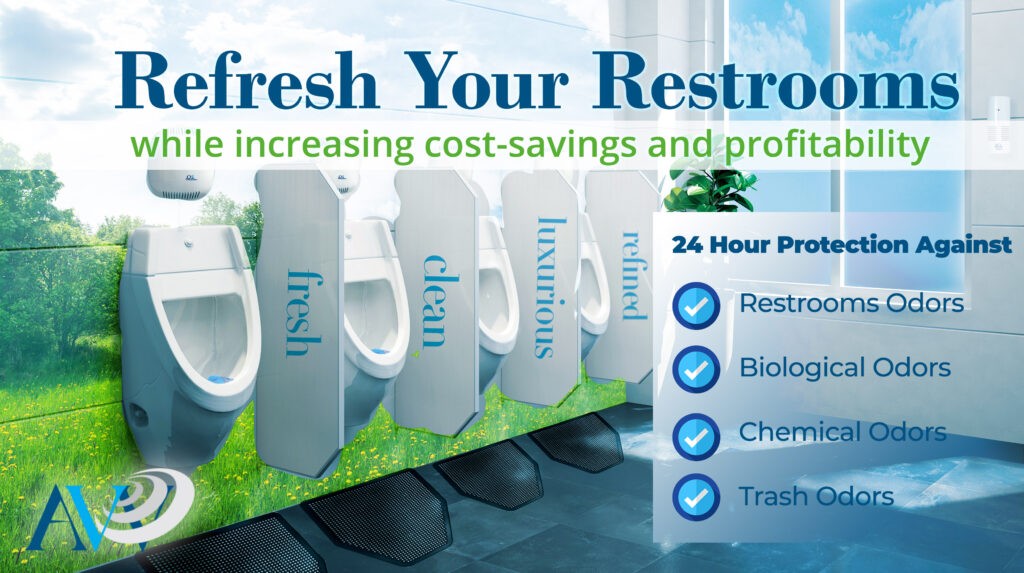 Keeping your facility smelling clean and well-maintained requires effective odor removal products, keen attention to detail and constant upkeep – throughout every area of your facility

 Gain reassurance that the best products available are always working for you

 Powerful yet safe odor control products stop odors before they start

 Your dispensers are kept stocked, functional, and effective 24/7

 Facility will be serviced by professionally trained technicians every 28 days

 Utilize the proper technology in the appropriate spaces

 Avoid running out of stock
CONTROL COSTS AND IMPROVE PROFITABILITY WITH POWERFUL & STRATEGIC ODOR ELIMINATION
Increase cost-savings and profitability with our strategic odor elimination service
Follow best practices for instantly and effectively removing odors
Never pay for odor control products or air care dispensers
No stock to maintain or refill
Avoid overpowering fragrance and irritants
Employ deodorizing technology that creates a greater sense of clean
Streamline your service with add-on hand washing and hand sanitizing options that reduce waste up to 40%
Enjoy on-time, affordable service by an experienced provide with over 100 years experience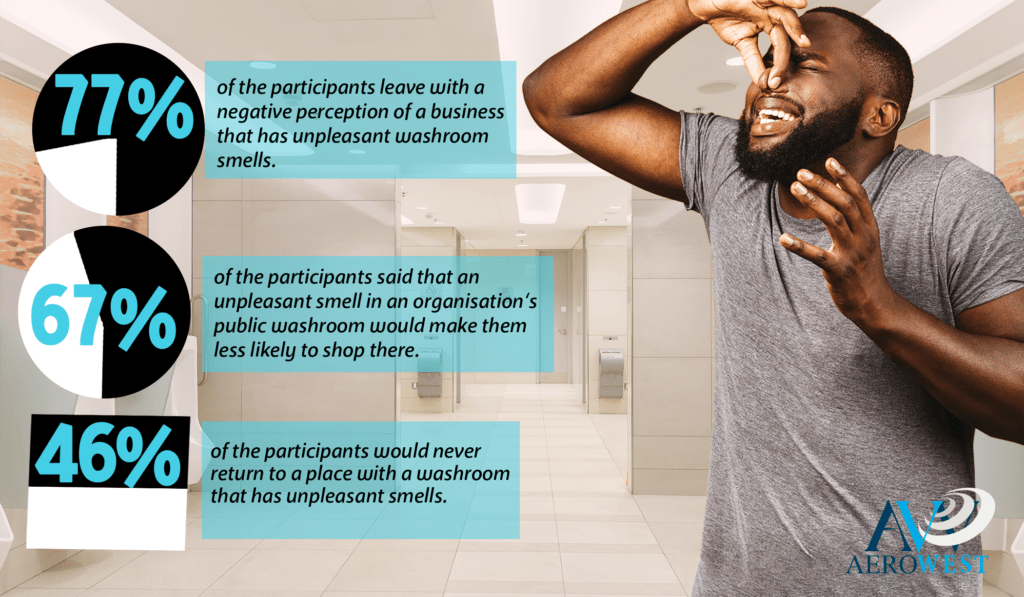 Make Your Facility Smell as Clean as it Looks
"Our facilities actually smell clean now!" – Southern Louisiana Hospital
Create a fresh, clean-smelling environment for your customers and employees. We address your worst odor problems strategically and effectively to guarantee your satisfaction. You won't find a more experienced, dedicated odor removal service out there.
From restrooms odors to trash odors, we have the optimal solution to meet your needs!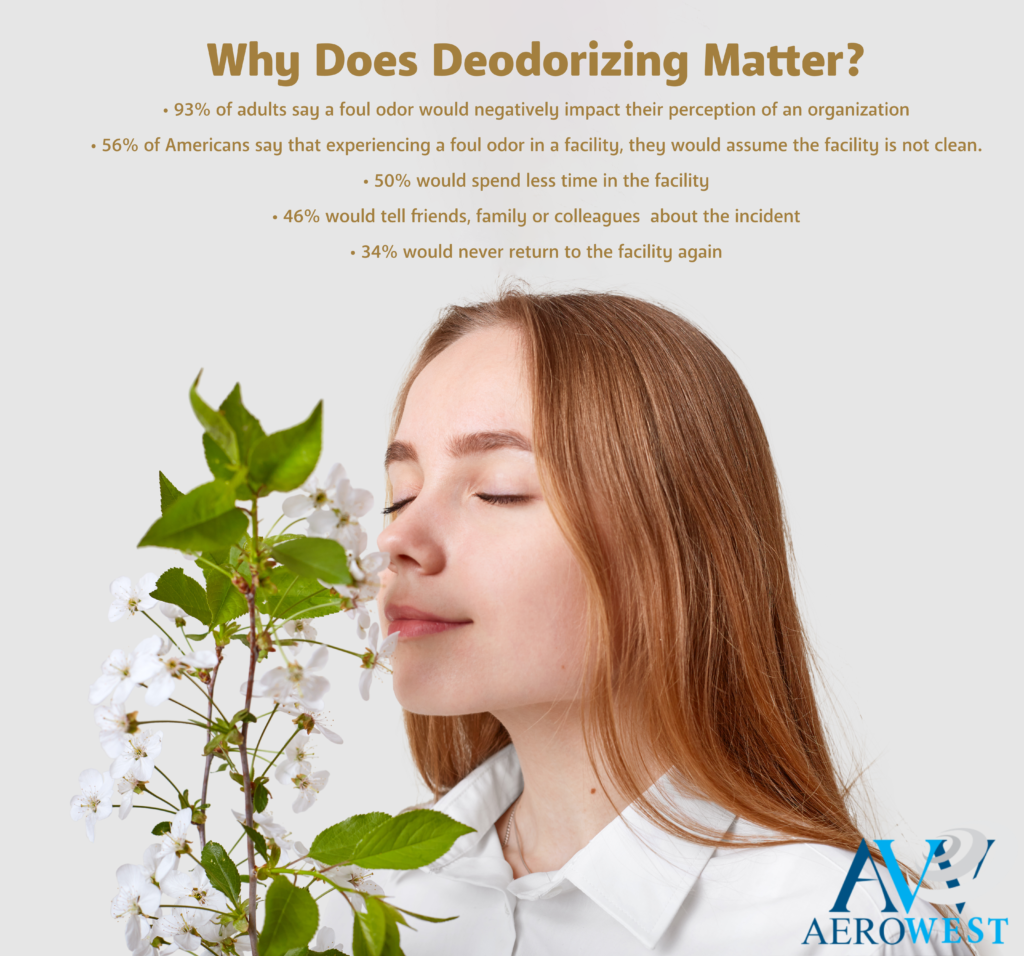 POWERFUL ODOR NEUTRALIZATION GETS RID OF ODORS IN SECONDS

Odoff Odor Neutralizer
Odoff is a specially formulated odor neutralizing agent that provides exceptional odor neutralization to ensure odors are eliminated, not masked. Odoff is great for targeting a wide variety of odor issues at the source. The versatility of Odoff allows it to be used as an odor neutralizing spray on hard surfaces and carpets. It can also be used as a mopping solution and more.
Eliminates odors on contact
Widely applicable
Effective in eliminating odors from pets, smoke, food, restrooms & other stubborn odors, wherever they are found
Neutralizes odors at the molecular level
Highly effective against sulfur & ammonia compounds
Perfect solution for eliminating odors behind urinals & toilets
THE #1 SOLUTION FOR RESTROOM ODORS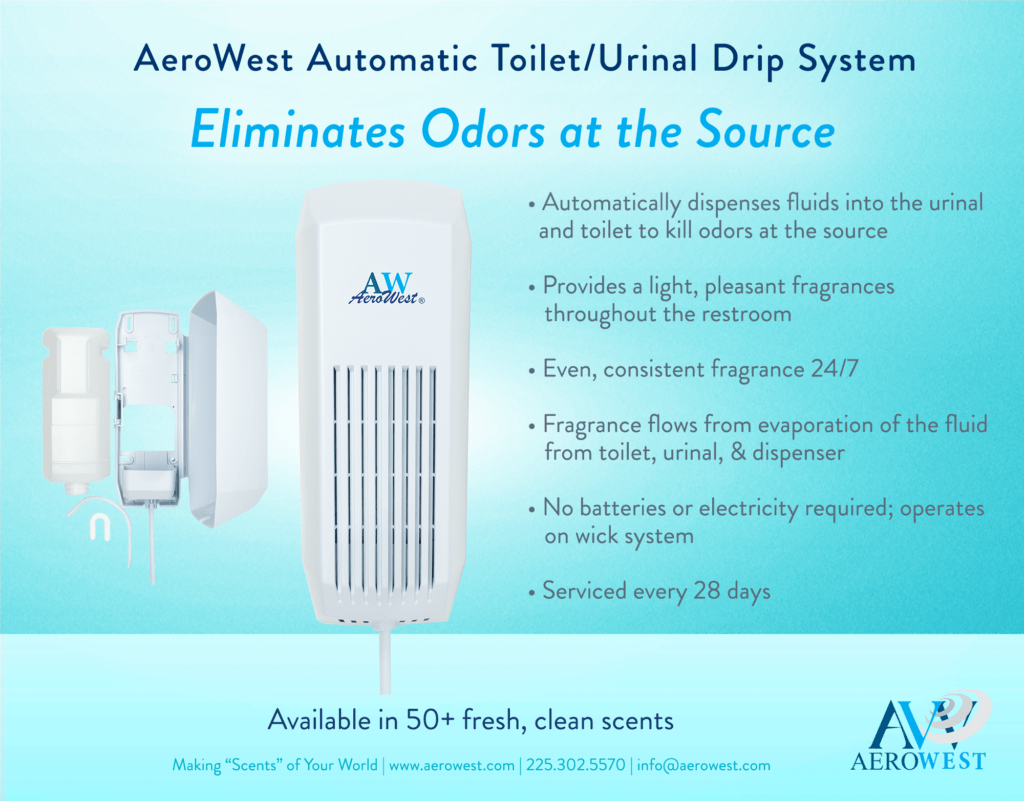 AeroWest Drip System for Toilets & Urinals
The AeroWest Drip for toilets/urinals automatically & continually dispenses our specially formulated AeroWest "Odoff" odor neutralizer to attack and eliminate foul odors at the source, as well as chelants for descaling, & detergents for cleaning. The AeroWest
helps you maintain a higher standard of hygiene in all of your restrooms 24/7.
Automatically dispenses drip formula into toilets/urinals
Contains Odoff, a powerful odor neutralizing solution effective against ammonia & sulfur compounds
Releases fluid continually to eliminate odors
Prevents build up of odor-causing bacteria
Reduces formation of biofilms
Chelating agent prevents hard water scale buildup
Made of tough, flexible, easy to clean polypropylene
Long-lasting, trouble free dispenser can be used for years
Unlike most odor control devices, the AeroWest is molded in one piece, with no moving parts or separate components
Simplicity of design & function – no batteries or electricity required
 For added fragrance, choose from a wide range of fresh, essential oilbased fragrances
OdoSan Drip System for Toilet & Urinals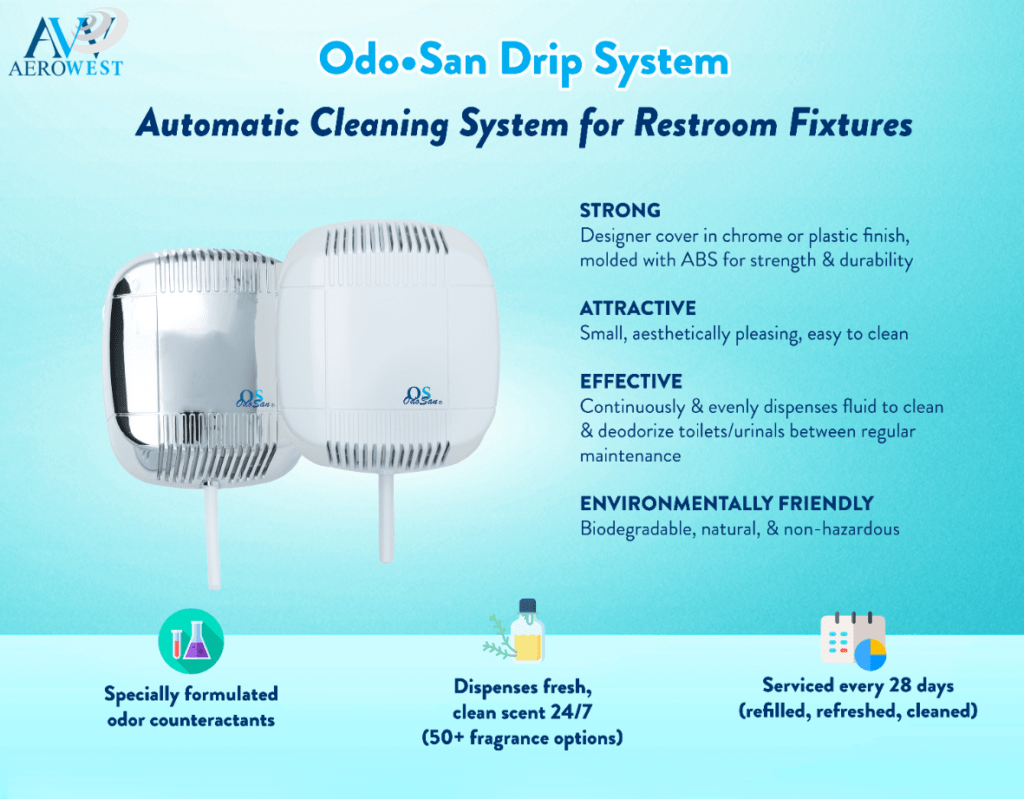 The Odo-San Drip is the newest addition to our drip systems. The OdoSan for toilets/urinals automatically & continually dispenses our specially formulated OdoSan "Odoff" odor neutralizer to attack and eliminate foul odors at the source, as well as chelants for descaling, & detergents for cleaning. Designed to be smaller & more compact, the Odo-San has a more upscale appearance. Developed to meet the needs of public facilities such as hospitals, hotels, restaurants, and office buildings.
Eliminates odors, cleans, & descales toilets/urinals
Contains Odoff, a powerful odor neutralizing solution for ammonia & sulfur compounds
Reduces formation of biofilms
Can be installed directly into fixture or in-line into the piping
Chelating agent prevents hard water scale building & removes existing scale
Made of tough, flexible, easy to clean polypropylene
Long lasting, trouble free dispenser can be used for years
Simplicity of design & function – no batteries or electricity required
DOUBLE TOILET BOWL CLIPS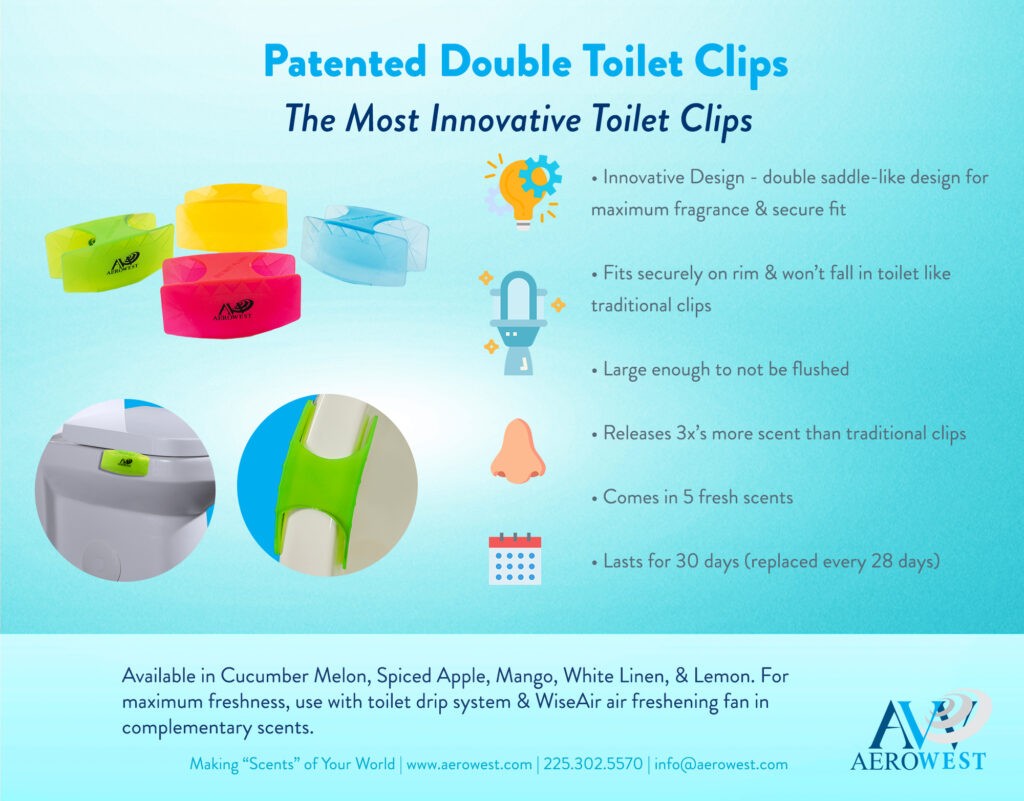 Our Double Toilet Clips are innovative, patented devices uniquely engineered to fit securely on toilets of all sizes.
Customer Favorite
Releases up to 3x the fragrance of a traditional toilet clip
Double saddle-like design prevents clips from falling into toilet, causing $$$ plumbing issues
Long-lasting, consistent fragrance all month long
Available in Cucumber Melon, Spiced Apple, Lemon, Cherry, & White Linen
Versatile – Can be used on restroom partitions, clipped onto desk, placed in cabinets, & more
Pair with WiseAir fan in same or complimentary scent
BEST AIR FRESHENING SOLUTION FOR SMALL TO MEDIUM SPACES – WISEAIR AIR FRESHENING FANS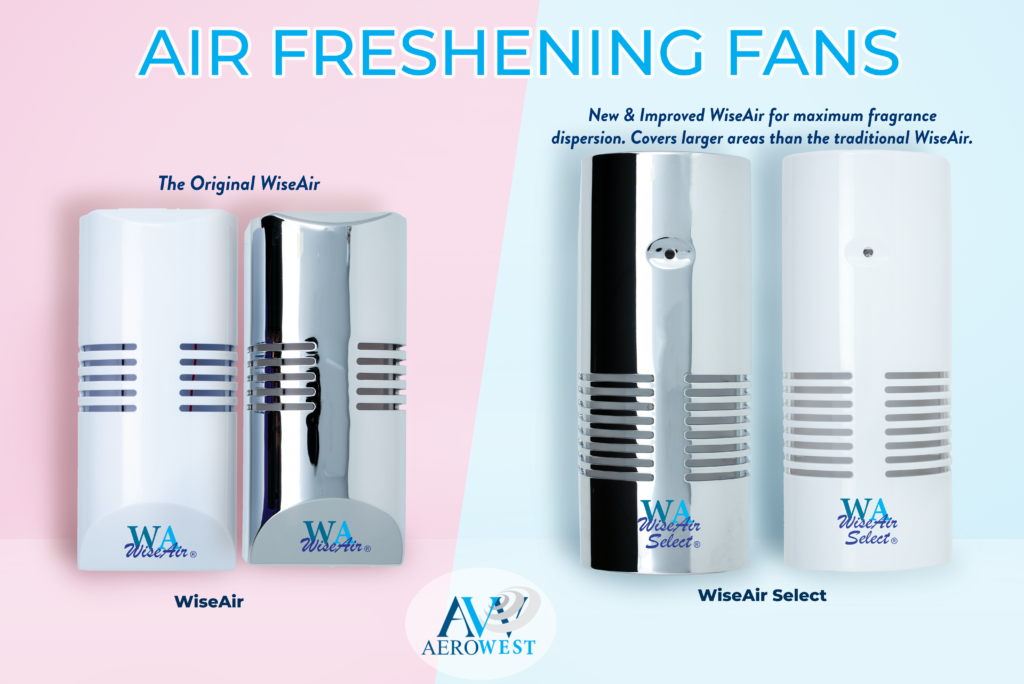 Our WiseAir air freshening fans are uniquely engineered for superior,
lasting freshness. Enjoy fresh, pleasant fragrance 24/7 without the mess
of an aerosol. WiseAir fans can be used anywhere they're needed such as
hallways, locker rooms, waiting rooms, elevators, restrooms, laundry rooms
& more.
High performance, fan-operated air freshener
Great air freshening solution for small to medium-sized rooms & restrooms
Comes in two sizes:
• WiseAir covers up to 200 sq. ft.
• WiseAir Select covers up to 400 sq. ft.
Provides effective, consistent odor control 24/7
Upscale, contemporary design
Provides aromatherapy benefits with great essential oil based fragrance options
Enhanced active fan blade system evenly disperses fragrance throughout the room
Does not use a hazardous aerosol, which contains harmful chemicals and sprays large droplets onto clothing or the floor
PROFESSIONAL SCENT MACHINES FOR COMMERCIAL SPACES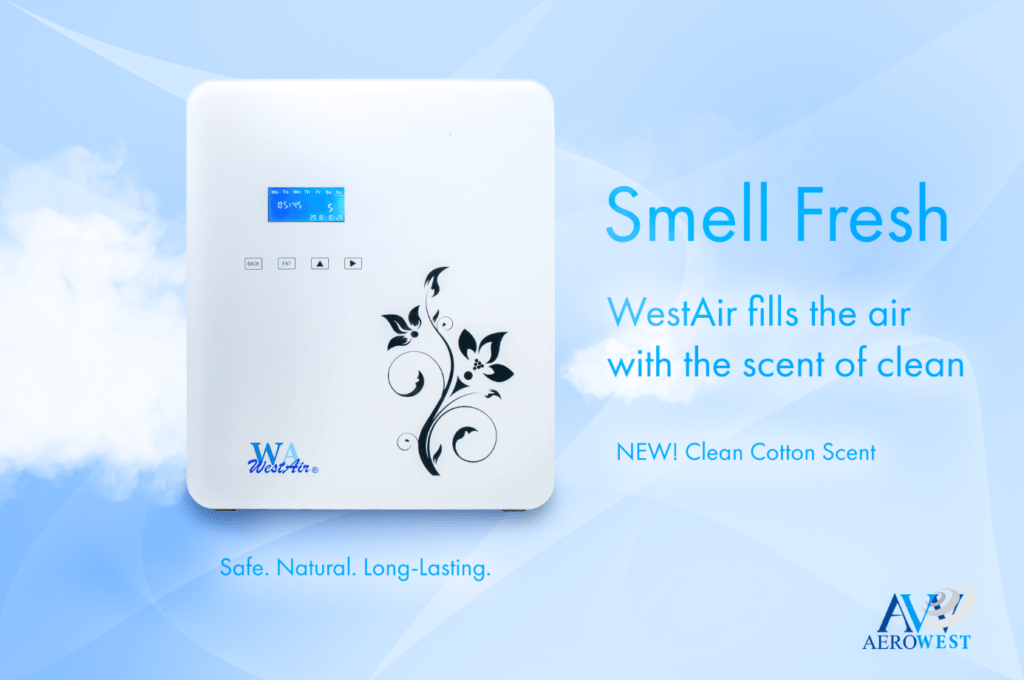 WestAir Nebulizing Diffuser
The WestAir is a beautifully designed, professional scenting device that uniquely diffuses essential oils in any business environment, in order to enhance emotions, influence consumer behavior and employee mood. Unlike traditional diffusers, the WestAir is engineered to atomize the essential oils into micron size particles for longer-lasting, consistent fragrance, greater efficiency, maximum fragrance dispersion, and enhanced aromathereapy benefits.
Professional quality scenting solution
Superior fragrance dispersion
Highly customizable to your preferences
Programmable on/off timer to operate when desired
Programmable fragrance intensity settings
Wall mountable & HVAC compatible
Covers 10,600 to 14,100 cubic feet
Other units available to cover larger areas
 Secure, lockable unit
Excellent for lobbies and large meeting spaces in hotels, hospitals, nursing, homes, professional offices, luxury stores and convention centers with the aim of enhancing the customer experience with a sophisticated and elegant ambiance.
ODOFF URINAL MATS
Odoff Urinal Mats are the ultimate urinal floor mats. These high quality mats are enhanced with our powerful, Odoff odor neutralizer for exceptionally fresh, clean restrooms.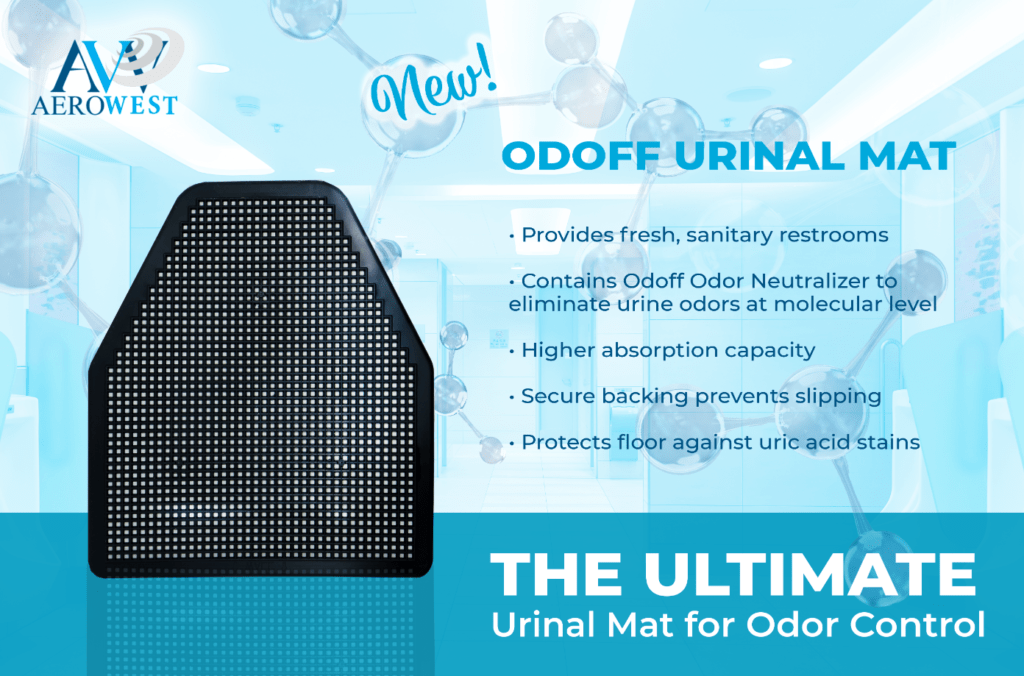 Mats contain Odoff to eliminate urine odors on contact
Improved, non-slip backing provides a safer, drier floor surface
Adheres securely in place without damaging floors
Ultra high absorption for safe, sanitary floors
Moppable – Performance is unaffected by light, damp mopping over surface
Protects floors from uric acid damage
Designed for high traffic zones
Versatile & works on any surface from vinyl, to decorative tiles, to concrete
Prevents cross contamination of urine from the restroom to other areas
Improves facility's appearance by eliminating "unsightly" puddles
PORTABLE, INSTANTANEOUS ODOR REMOVAL FOR ALL SPACES
OdoX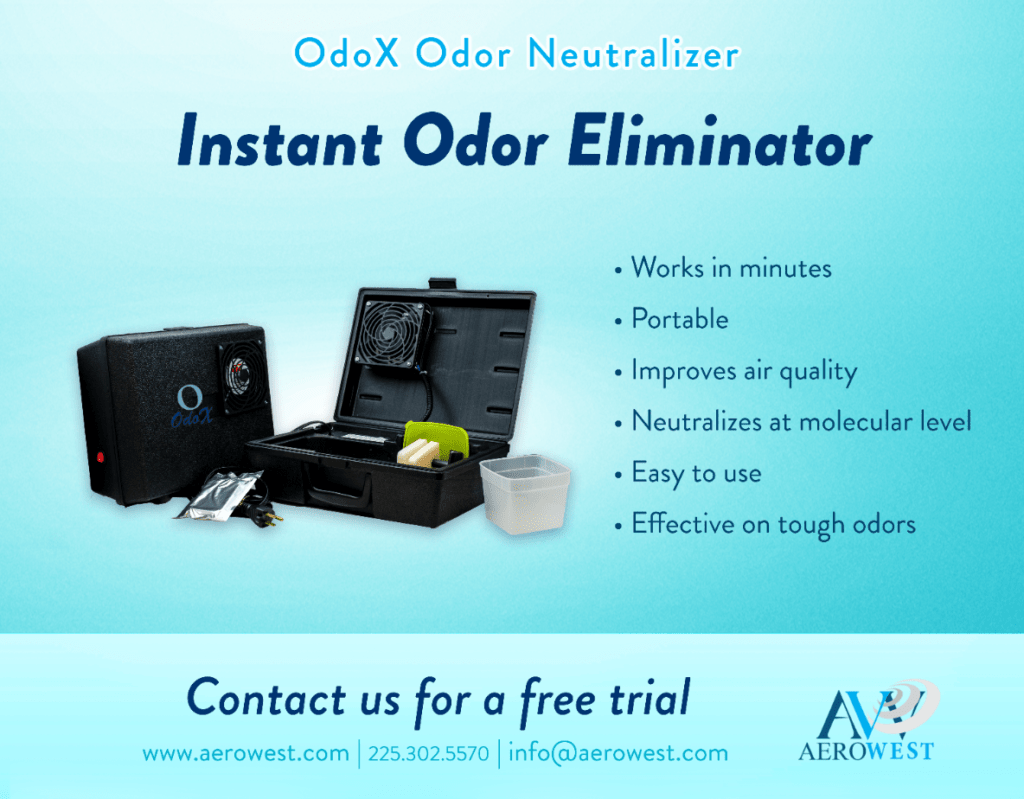 OdoX is a powerful, portable, professional grade odor control system, all in one easy-to-use carrying case. Using innovative, microcell technology, OdoX effectively neutralizes odors at the molecular level. It's convenience & portability provide the ultimate odor control, whenever & wherever you need it.
POWERFUL – Powerful, high speed fan circulates odor counteractant at adjustable speeds of up to 3000 RPM.
Designed for eliminating high concentrations of strong, stubborn odors
ULTRA-PORTABLE – Bring OdoX wherever you need it. Comes in a light carrying case (13"x16"x4").
FAST – Eliminates stubborn, persistent odors in minutes
EASY TO USE – Simply plug it in & switch it on for instant deodorizing
Great for health care facilities, hotels, restrooms, kennels, locker rooms, meeting rooms, refuse areas, where food has spoiled, after fires & floods
Effective against odors caused by incontinence, cancer, pets, decay, smoke, bacterial growth, liquor, beer, mildew & more
Portable case dimensions: 13"x16"x4"
 The unit can be loaded with 1 – 5 microcells
EFFECTIVE HVAC DEODORIZER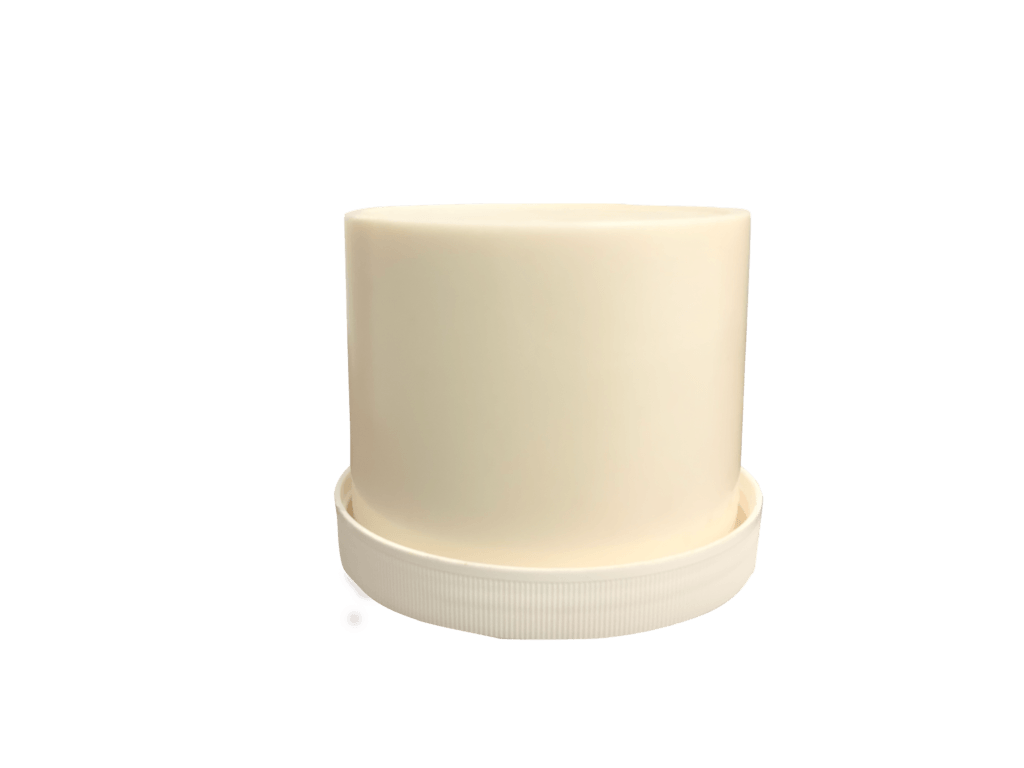 AEROFRESH HVAC DEODORIZER
Aerofresh HVAC Deodorizer effectively eliminates bad odors from the air handling system and improves indoor air quality. Bio-based deodorizing technology absorbs malodors, while releasing fresh, mint fragrance throughout the facility.
Bio-based, biodegradable product effectively absorbs odors
Compact, self-contained tub designed to be inserted directly into HVAC system
One 2-pound block will deodorize up to 1200 sq. ft. for at least one month
2-lb block will deodorize a 15 ton system for 30 days
Gelled block uses innovative technology to neutralize malodors at the molecular level
Simple to use – Open tub, place block on lid & place in HVAC
Provides aromatherapy benefits of peppermint essential oil, which has long been used to relieve headaches and tension, increase alertness & energize
Circulates refreshing mint fragrance throughout facility
Check out our Fragrance Collection Here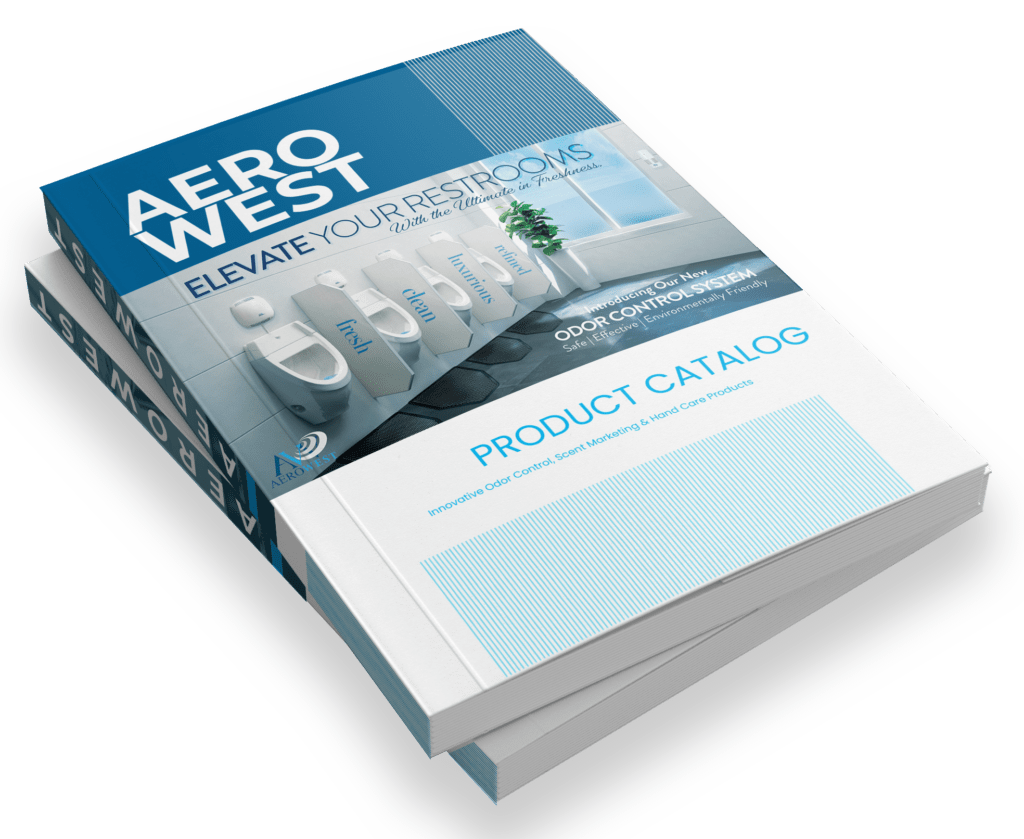 Try our service for free
Ready to see how our odor control service can benefit your organization? Contact us to try our service with no cost and no obligation.
Have questions? Contact us for more information.