AeroWest Services: What We Do & How it Works
First of all, thank you so much for considering AeroWest. We deliver 140 years of knowledge and expertise in air care solutions.
We know what it's like to deep clean your restrooms only to walk in to embarrassing odors seconds later!
Running a facility is hard work and you're often underappreciated. All it takes is a bad odor to undermine your efforts in the minds of your customers.  We understand and we're here to help!

AeroWest manufactures and services odor control, hygiene and scent marketing solutions. We're a certified woman-owned, small business devoted to making life easier for cleaning professionals and raising hygiene standards across the globe.
What Kind of Services Does AeroWest Provide?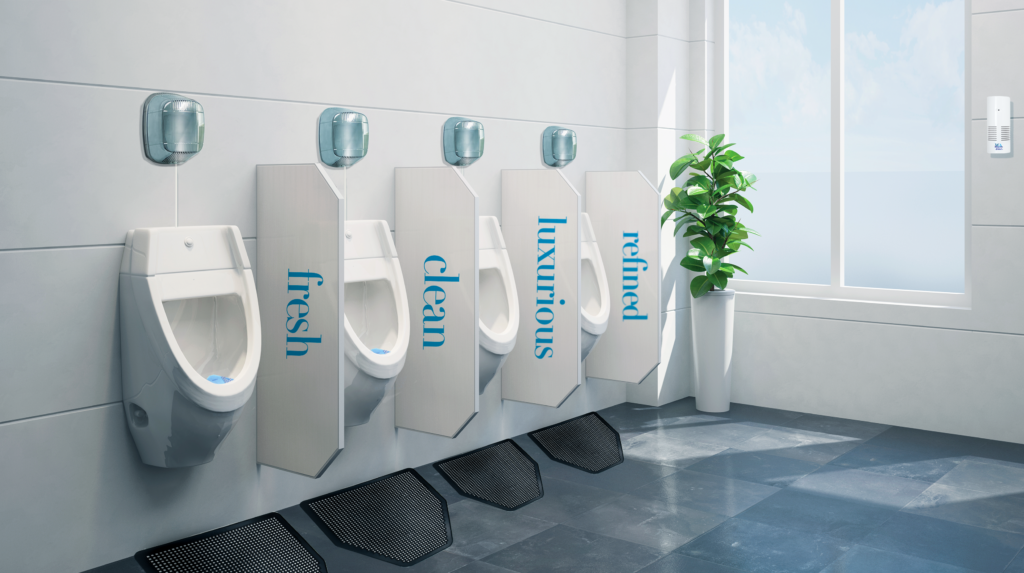 Take back your facility from odors. AeroWest can help you achieve 24/7 odor elimination that leaves your facility amazingly fresh and noticeably clean! Your customers won't believe their noses.
Unlike commercial cleaning companies, AeroWest is highly specialized in air care services. We manufacture and service solutions for:
True odor elimination begins at the source of the problem. AeroWest does the work for you by eliminating 99% of odors at the source. AeroWest odor-fighting solutions are so effective because it's what we have done every day since 1883.
For 140 years, we've built our reputation on effective, affordable, hard-working air care services. Our automated odor removal solutions work 24/7 so you don't have to!
What Do You Get With AeroWest Service?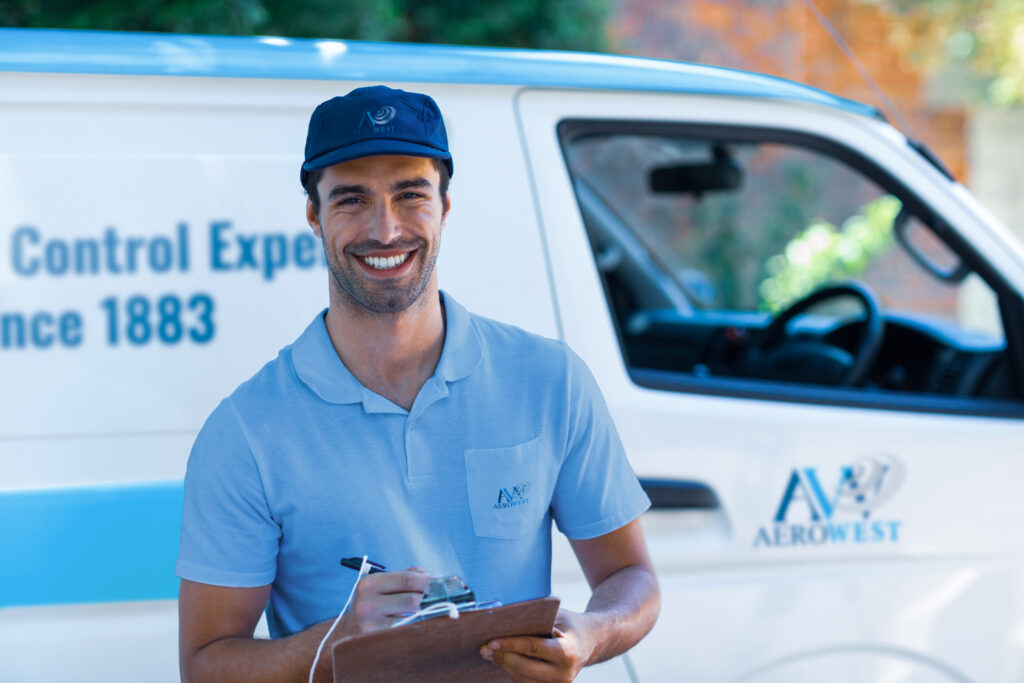 As a small business, we're able to offer highly customized solutions based on your needs. We provide 100% full service of all of our equipment on a 28 – 30 day service period.
Odor Removal Solutions
From cutting-edge odor control solutions like AeroWest's Odoff Odor Neutralizer and our OdoX Portable Odor Neutralizing system that kill odors in seconds to automatic cleaning and deodorizing systems, AeroWest has it all. Spray, mop, or diffuse odors away, even in hard-to-reach spaces like grout lines, drains and behind fixtures.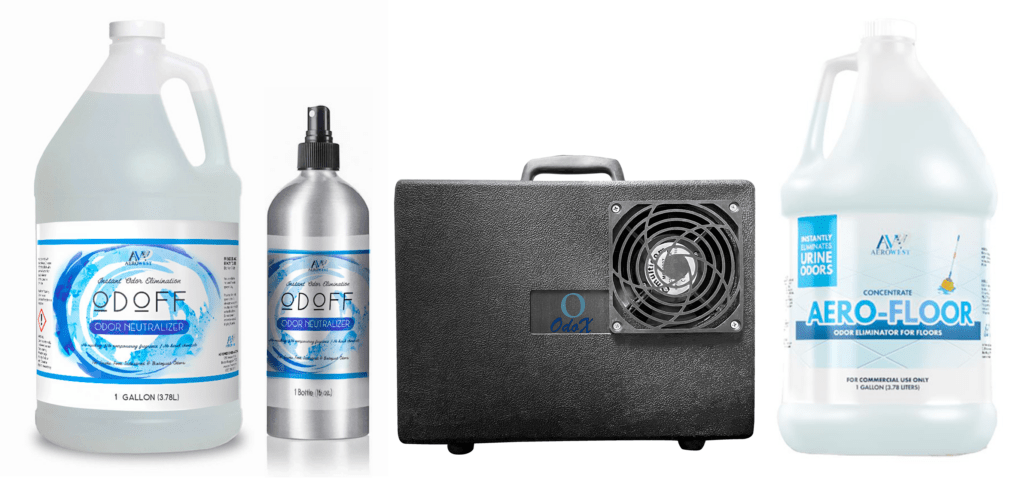 Air Freshening Solutions
AeroWest air fresheners have outstanding features that scent better, faster and longer. Enjoy the finest fragrances that you can never get from conventional air fresheners. Get amazing fragrance everywhere or create your own signature scent. Plus, you get customizable scent machines that won't spill or drip on floors, or create your own signature scent!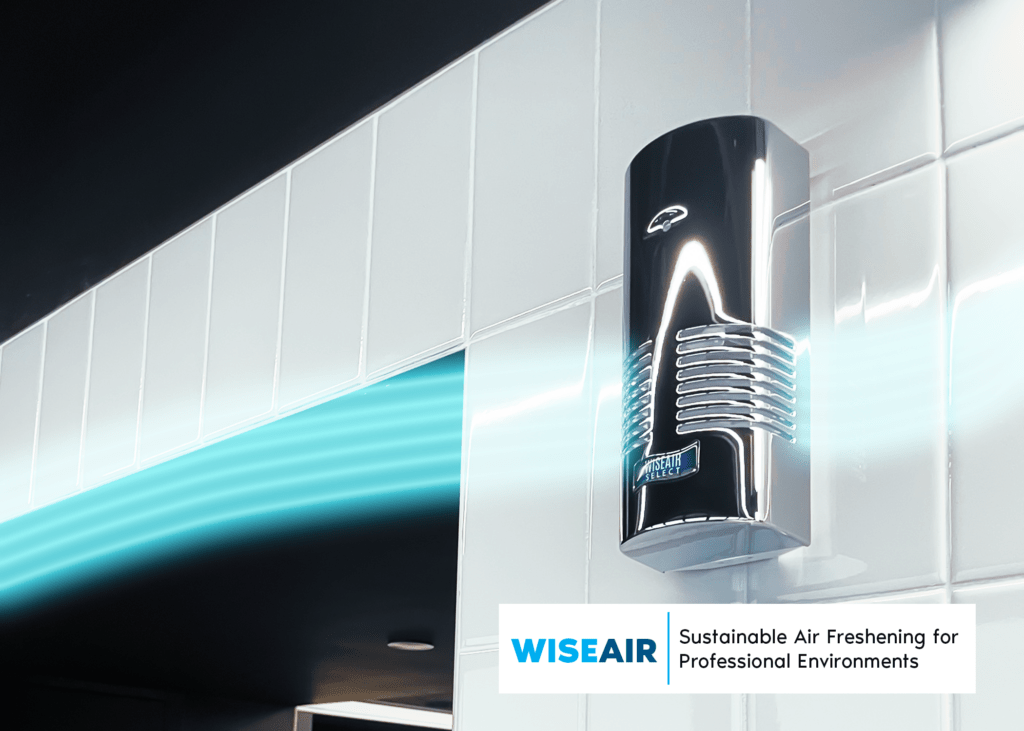 Your monthly service will include all products, chemicals, dispensers, fragrances, replacements for free. What's more, you only pay for the service, resulting in big savings and less hassle! 
Which Industries Do We Serve?


Is AeroWest right for your facility? AeroWest serves commercial, institutional and industrial facilities across the United States.
We provide services to:
Healthcare (hospitals, clinics)
Nursing Homes
Education (universities, schools)
Hotels
Casinos
Stadiums & Arenas
Airports
Convention Centers
Theme Parks
Government & Military Facilities
Gyms & Fitness Centers
Office Buildings
Retail Stores
How Do I Get Started?
Free Trial Offer
We encourage you to try a free trial of our services. To start your free trial, give us a call at (225) 302-5570.
We're committed to your 100% satisfaction. A professional AeroWest representative will visit your facility to develop a creative, customized solution that best meets your needs. From there, our trained service technicians will service your facility each month. Unlike our competitors, we'll be there anytime a problem or concern arises, even if it's before your service period.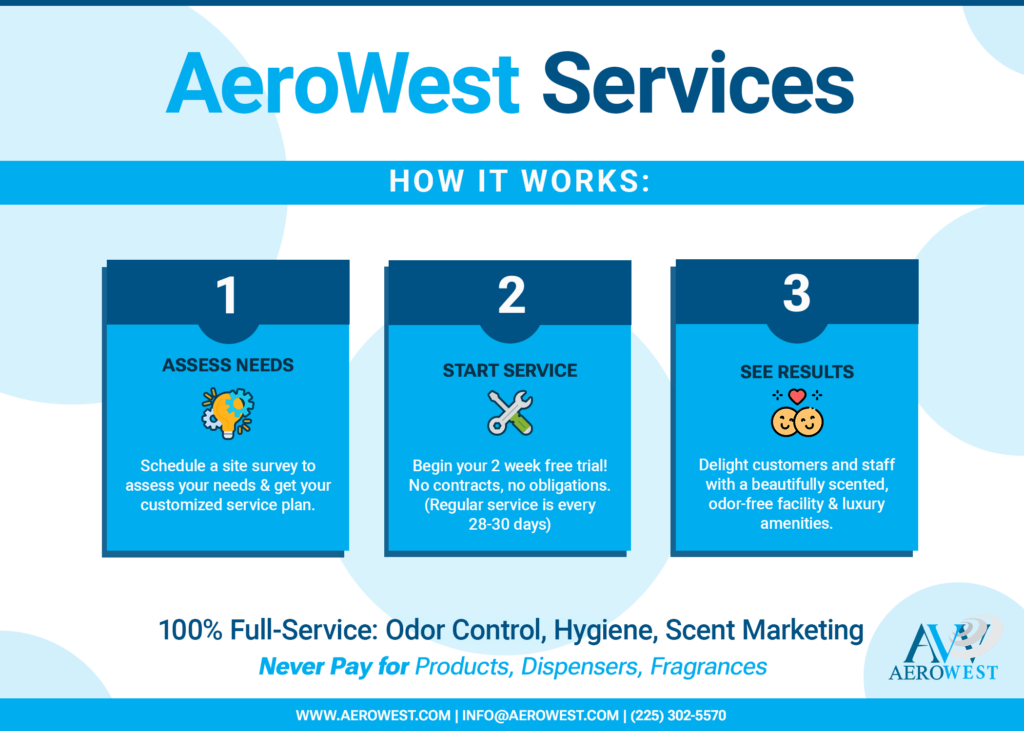 FAQs:
What if you already have a Janitorial Service that takes care of the restrooms?
We do not duplicate what your janitorial service does. AeroWest enhances what they do by keeping your facility fresh between cleanings.
How Does AeroWest Compete With Their Big Time Competitors?
We're a small business that faces competition from very large corporations that do a little bit of everything – yet, we've established ourselves as the leading experts in our niche of the cleaning industry. To compete, we've dedicated ourselves to doing what we do extremely well, with keen attention to every detail – and have been doing so successfully for longer than any of our competitors. Our success lies in honest pricing, excellent service, and hard work. In addition, we manufacture and service our own line of products, allowing us to offer great prices by eliminating the middle man.
What to Expect From Your AeroWest Service?
Expect fresh, odor-free facilities that lead to great reputations, happy customers, and better company reviews. Plus, you'll save time and money by getting all your odor control and air care solutions in one place, while supporting a certified, woman-owned small business.
What Fragrances Do You Offer?
Experience the finest fragrances that you can never get from conventional air fresheners. Enjoy unlimited new fragrances or get a one-of-a-kind signature scent. AeroWest offers 50+ essential oil based fragrances. Additionally, each fragrance undergoes months of testing to ensure you receive beautiful, long-lasting fragrance. Check out Our Fragrances or Download the full AeroWest Fragrance Catalog.
Do You Have a Product Catalog?
Yes, you can view all AeroWest Products here or Download Our Product Catalog.
How Often Does AeroWest Service My Facility?
We serve your facility every 28-30 days.
Contact Us
For more info or to setup your free trial, contact us at (225)302-5570 or info@aerowest.com.