Your Guide to Hotel Scent Marketing
Harnessing the Power of Scent in Hotels
"With the right smell, you can create an emotional and extremely deep relationship between your brand and your customers." – Martin Lindstrom, "Brand Sense: Build Powerful Brands Through Touch, Taste, Smell, Sight, and Sound"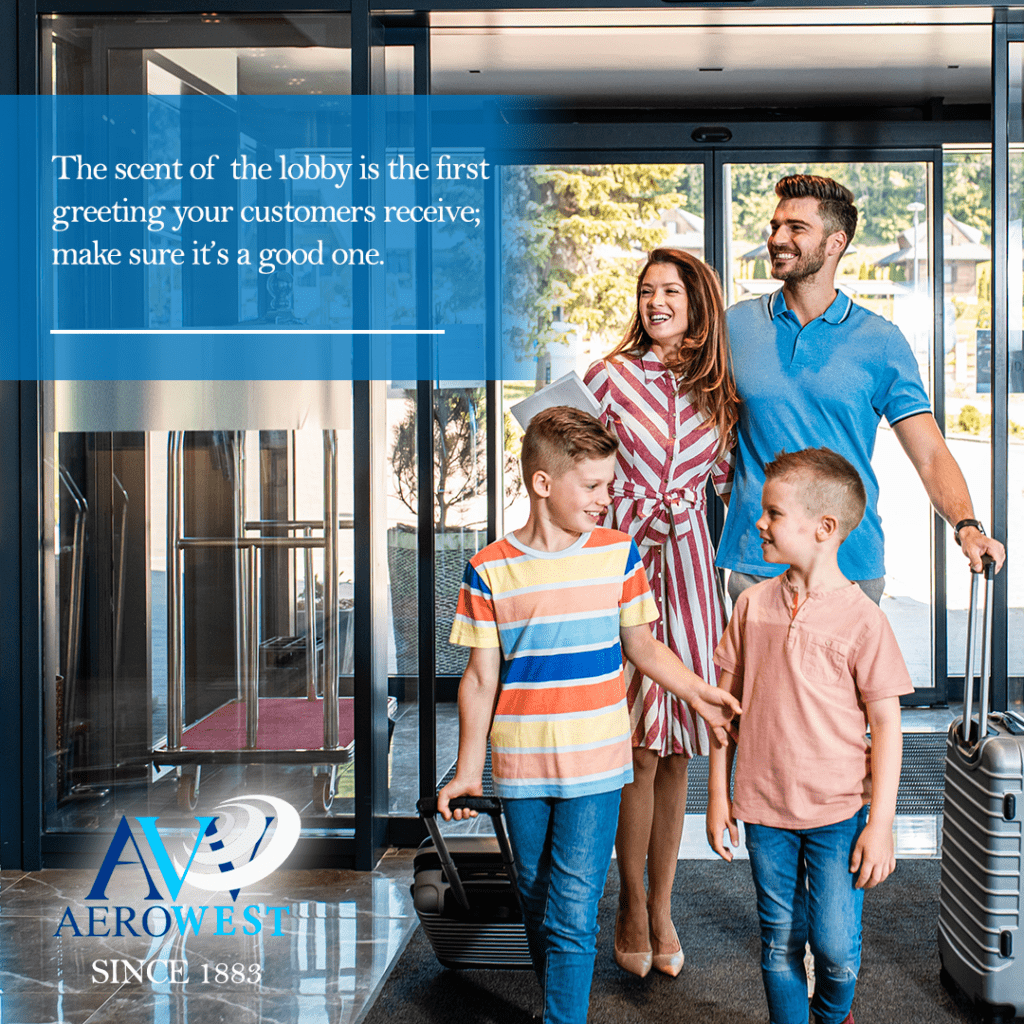 Today's hotel guests are inundated with tantalizing options. From new brands to new concepts (such as the underwater hotel at Conrad Maldives Rangali Island), and tons of vacation home rentals, hotel competition is fierce. Let's be honest. The challenge of truly standing out in the hospitality industry is daunting. The hotel industry is changing rapidly and it's almost impossible to keep up with hotel management trends. However, the use of scent offers a powerful way to capture the attention and loyalty of hotel guests.
A pleasant fragrance positively influences consumers' affective reactions, evaluations, and intentions to revisit the store, especially when the consumers score high on affect intensity. The strategic use of ambient scents is an inexpensive yet powerful way to positively influence consumer behavior.
Benefits of Ambient Scenting in Hotels:
Increase the level of guest satisfaction
Creates positive first impression to guests
Improve guest satisfaction with housekeeping
Boost in-house sales
Improve reviews
Gain repeat guests
Book longer stays
Increase food and beverage purchases
Create wonderful memories of their stay
Enhance perception of luxury
Gain more referrals
Want your guests to book longer stays? Using signature scents causes guest to perceive your hotel as more luxurious and increases the length of their stay.
The Power of Scent as a Profitable Hotel Amenity

With decades of experience in hotel air care and scent marketing, we'll share the best ways to use scent to delight your hotel guests. The purpose of using ambient scenting in your hotel is to give your guests a positive experience, excitement, pleasure, and satisfaction. There is an art and science to using scent effectively.
Scent Marketing is an innovative marketing strategy to stimulate a customer's relationship with a brand, which fosters a lasting emotional connection & brand loyalty. It's an incredibly powerful tool that directly influences consumer emotions and perceptions. The power of scent lies in the way our brains perceive fragrance. Unlike our other senses, scent goes directly to the limbic system (the memory and emotional centers of our brain). Therefore, there is a strong neurological basis for why scents are so powerful.
Scent marketing is not about just acquiring customers, but rather elevating the guest experience. It's how you make them feel. Scent helps you communicate with guests directly to the emotional memory centers of their brain. You don't need strong, overpowering scents to experience the benefits. In fact, studies show that subtle scents have the largest positive impact on consumers. Guests may not even notice that scent is shaping their perception.
Pleasant & appropriate scents have positive affects across the board: guests are happier, more productive, more inclined to buy, and more likely to remember their experience.
"Smell can entice consumers to stay longer, shop longer and purchase more." – Elizabeth Musmanno, President of The Fragrance Foundation
Did You Know: Smell influences 75% of the emotions we generate everyday & people can recall specific smell a year later with 66% accuracy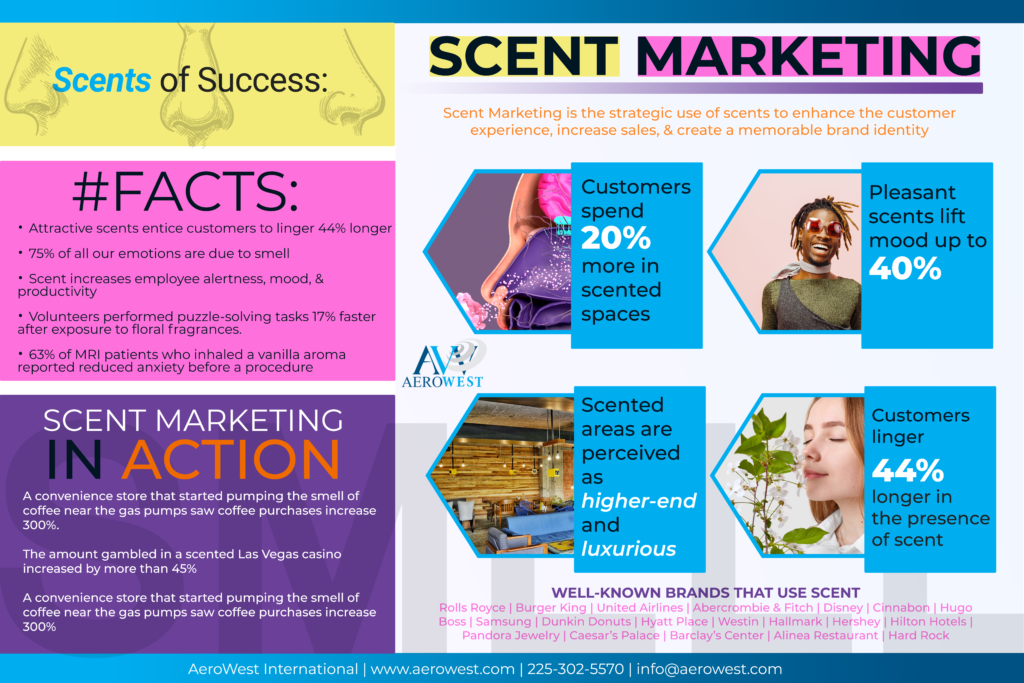 "Stores (utilizing scent marketing) have witnessed increases of people staying up to 20% longer on average […] and 300% sales increases in particular products" (Wilson, 2007).
Signature Hotel Scents
The first thing guests notice upon entering a hotel is not just the appearance of the lobby, but how it smells. Fill the air with a luxury, brand-inspired scent to instantly create a great first impression. A signature scent is a one-of-a-kind, brand-defining fragrance. Your signature scent should truly embody who and what your brand represents. It's an extension of your architecture, decor, ambiance, and customer service. Integrating a signature scent with interior design elements creates just the right environment to impress your guests and create deep, long-lasting connections with your guests.
Guest-Pleasing Scents: How to Choose a Signature Scent for Hotels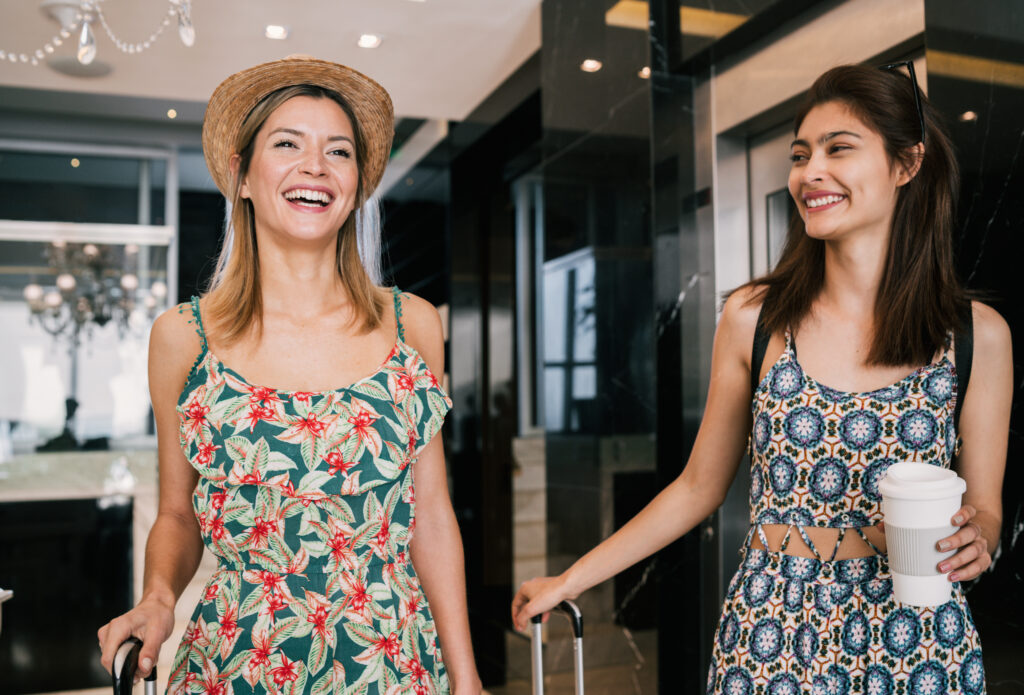 We're here to help you select a guest-pleasing signature scent for your hotel. When selecting a signature scent, consider your brand identity, brand message, location, the ambiance you aim to create, and the guest experience you want to provide. For hotels, it's especially important to consider your location.
For Scent Marketing to be successful, ask yourself these 4 questions:
1. Who is the target audience?
2. What is the target audience seeking from the guest experience?
3. Which scent can reinforce the beliefs and emotional reactions your guests are seeking?
4. Will the resulting atmosphere compete effectively with competitors' atmospheres?
It is very important to choose scents that align with what your guests want and to choose a level of sophistication with scent marketing that compliments your brand.
A 2021 study showed that when the scent is perceived as congruent with the brand image, consumer reactions are more favorable. It is not enough to use a scent that "smells good"; the scent must be perceived by consumers as consistent with the brand image. Findings also reveal that the diffusion of a scent congruent with the brand image improves guest satisfaction, intention to revisit and perceptions of the product and service.
Remember: ALL components of the atmosphere must be cohesive to experience the full benefits of scent marketing.
Scent Preferences Vary Across Cultures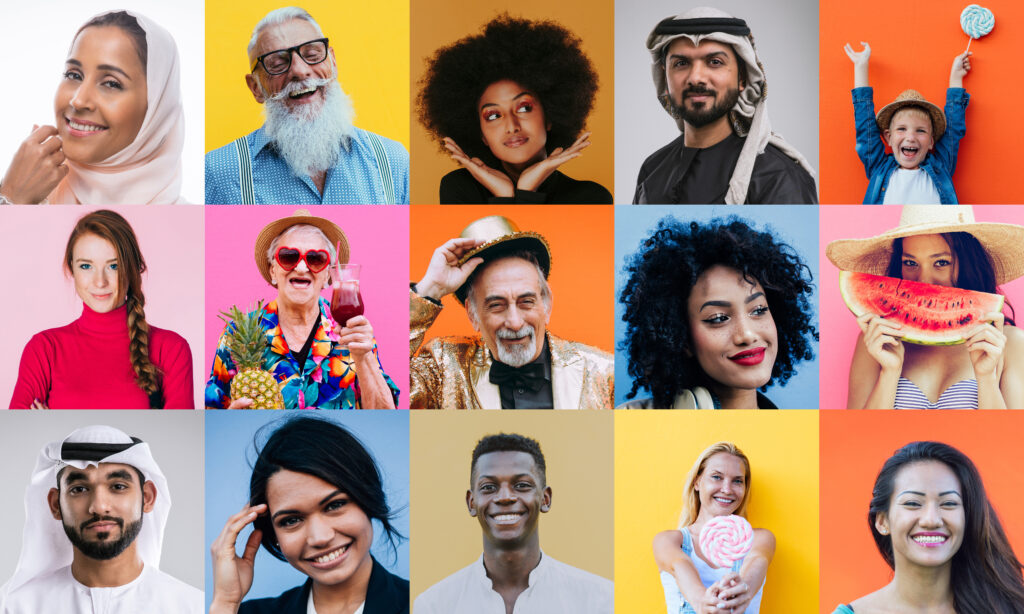 Fragrance is an art that's experienced differently by each person. Similar to food, fragrances not only reveal individual preferences, but they reflect the culture as a whole. Scent preferences vary widely across countries and geographies. What appeals to those in the U.S. is completely different to what appeals to those in the Europe. For example, Americans prefer sweeter scents, whereas Scandinavians prefer natural smells. Fragrance is all about perception. History, tradition, and even climate influence each country's preference in fragrance. Another factor in scent preference is of course trends, but also ingredient availability.
Despite all the variation, Franco Wright, Co-founder of Scent Bar, says there are some key commonalities across all markets.
"One thing we know is that 'fresh-' and 'modern-style' fragrances are still popular across each country, each customer." – Franco Wright
The World's Favorite Scent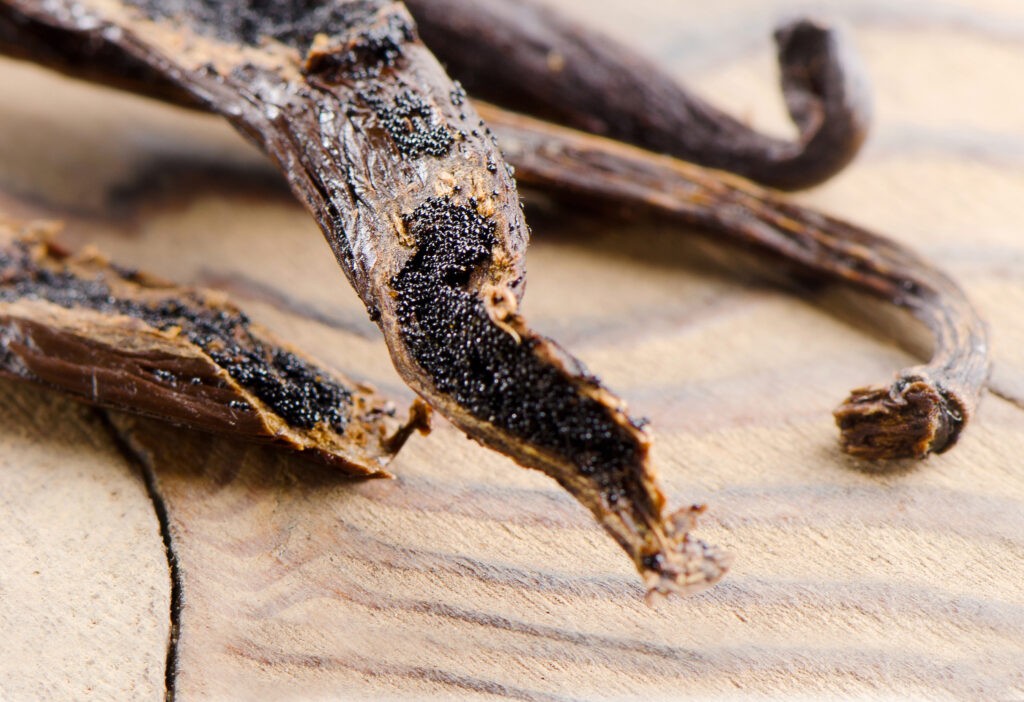 Vanilla has been named the world's favorite smell by a team of international experts. Joining vanilla in the top three most popular scents was the smell of peaches and lavender.
In this new 2022 study, researchers asked individuals from 10 distinct cultural groups – including a number of indigenous hunter-gatherer peoples and traditional farming communities, as well as modern city-dwellers in NYC to sniff 10 unique scents and rank them in order of pleasantness. The researchers gathered data from urban, rural, and indigenous communities in Thailand, Mexico, Ecuador, and the US.
Participants included a number of hunter-gatherer groups, subsistence horticulturalist and agriculturalist communities, and a cohort of subjects from New York City, representing a modern racially and ethnically diverse urban environment.
The #1 ranked scent was vanillin (the main component of vanilla extract), while the next most popular was ethyl butyrate (which has a fruity smell, and is often used as a flavor enhancer in fruit-flavored food). Third was linalool, which has a floral smell.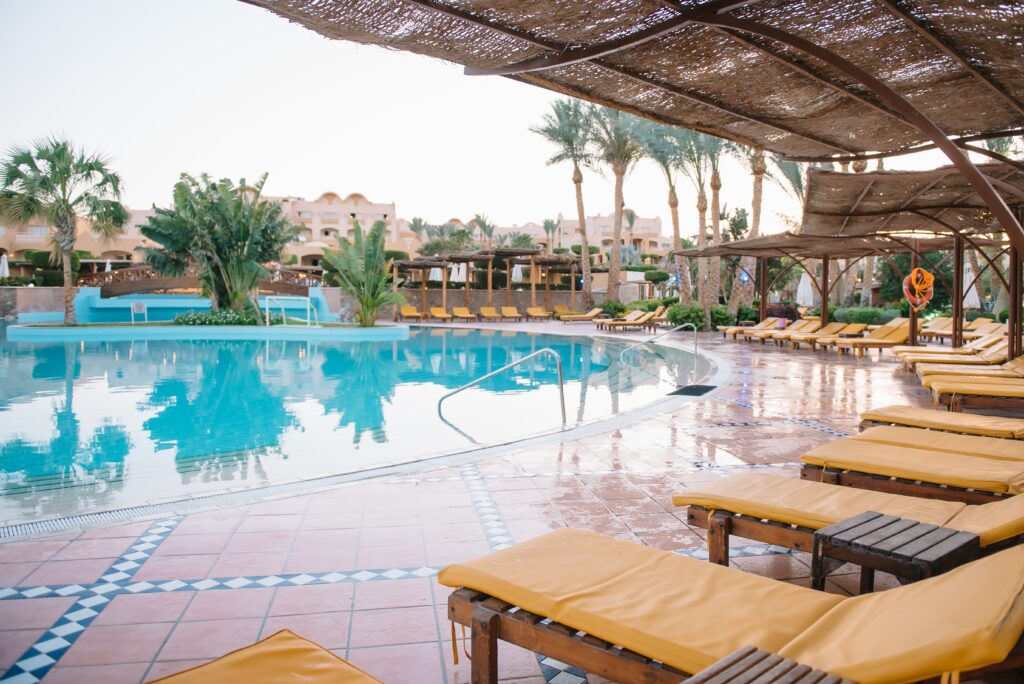 TIP: Immerse your guests in the full experience of your hotel's location, with a scent that evokes the locality.
Fragrance Level Matters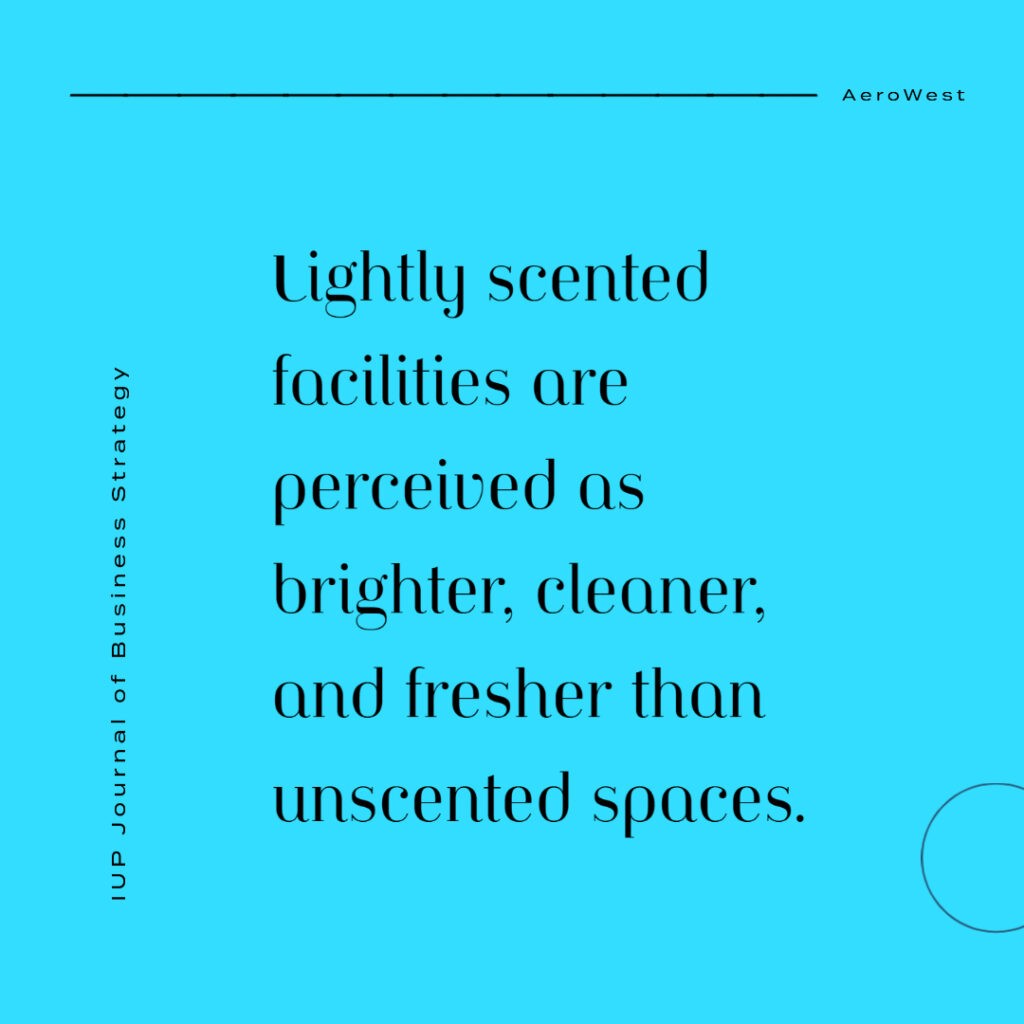 Even the finest fragrances can be overwhelming if you overdo it. Bombarding an environment with fragrance can turn people off. You want to aim for a nice, subtle level of fragrance that's still noticeable. Research shows that a room containing low levels of fragrance is considered by subjects as brighter, cleaner, and fresher, even though subjects did not consciously detect the fragrance (Bruner, 2009).
What Type of Emotion Do You Want to Evoke?
Every fragrance plays a different role and evokes different emotions. For example, lemon and peppermint can reinforce alertness and energy; lavender and cedar can reduce tension. That's why so many spas use lavender fragrance. Interior designers utilize this information as well. For instance, many large businesses use fragrance in heating and air-conditioning systems to increase work efficiency and decrease work stress. Basil, cinnamon, and citrus flavors aid in relaxation, whereas peppermint, thyme, and rosemary help to energize. Ginger, cardamom, licorice, and chocolate have been reported to arouse a sense of romance." (Hunter, 1995). Here are more fragrance principles to guide in the creation of your desired ambiance:
Florals create a sense of wanting to stay in that environment for longer
Leather evokes a sense of wealth and luxury
Fresh linen delivers a noticeable impression of cleanliness
Lavender promotes relaxation
Vanilla elevates the mood
To make a room feel larger, use green apple or cucumber, which creates a subconscious perception that surroundings are more spacious than they are.
To create an inviting, comforting ambiance use vanilla. Vanilla elicits "a feeling of safety and comfort." Baking cookies or bread also works, as "most people associate baking smells with positive memories from childhood".
To bring the energy, use peppermint. "Peppermint scent increases activity in the brain area that wakes us up in the morning ," says Bryan Raudenbush, a psychologist at Wheeling Jesuit University. Exercisers run faster and do more push-ups when exposed to the scent.
To promote rest, use jasmine.  "The scent of jasmine in your bedroom leads to a more restful night of sleep and a greater level of alertness the following day," Raudenbush says. Jasmine also increases the brain waves associated with deep sleep.
Keep it Simple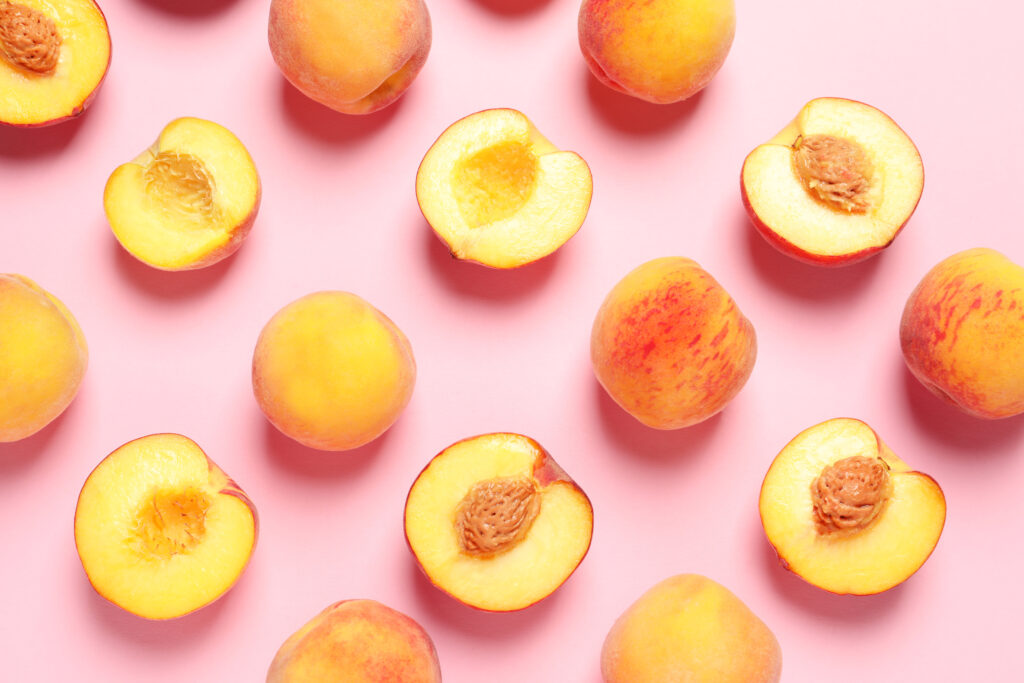 Don't get bogged down in all the details. As it turns out, simple scents works best. Researchers found that customers spend an average of 20% more in the presence of a simple scent (such as orange) than in the presence of a complicated scent (like orange-basil with green tea) or no scent at all.
Increase Revenue with Scented Mementos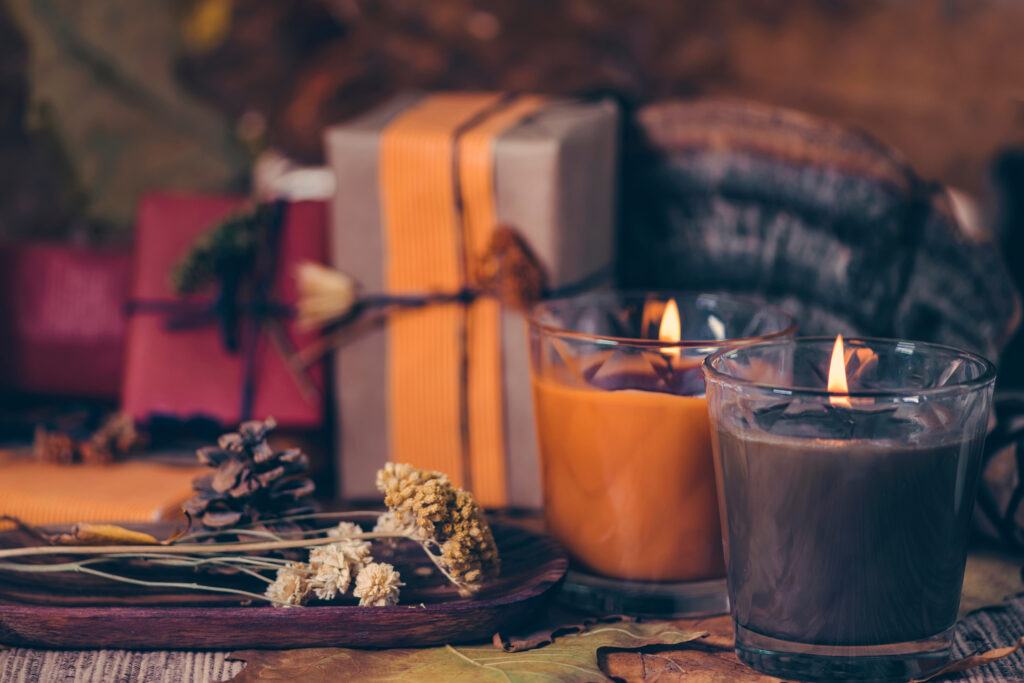 Hotel scent marketing is expected to become a $1 billion industry. This includes revenue from hotel-scented candles and other items. Scented souvenirs are a great way to allows your guests to recall their memories and experiences from your hotel. The options are endless!
One hotel scent marketer at New York's Quin Hotel created nice note-cards that release their signature scent as you write on them. Other hotels offer departing guests a scented gift of the hotel's signature scent. As a result, their emotional connection with your property will be enhanced, increasing the potentials of visiting again, as well as writing a positive review.
You can sell candles of your signature scent for guests to enjoy in their room or at home. This gives them the opportunity to take a candlelit bath, creating an even deeper emotional connection with your fragrance. Another prominent hotel uses their signature scent in their follow up mailing to evoke fond vacation memories.
You can even employ thematic scenting, where your fragrance can change based on the season, special events, or promotions.
The Blackstone Hotel in Chicago does a great job with scent marketing. Their signature scent is infused into their lotion, body wash and even their shampoo & conditioner. Let us know which other creative scenting ideas you've experienced.
Have fun with fragrance and your guests will too!
Hotels known for their scents
Here are just a few examples of hotels using scent marketing effectively:
How to Get Started With Scent Marketing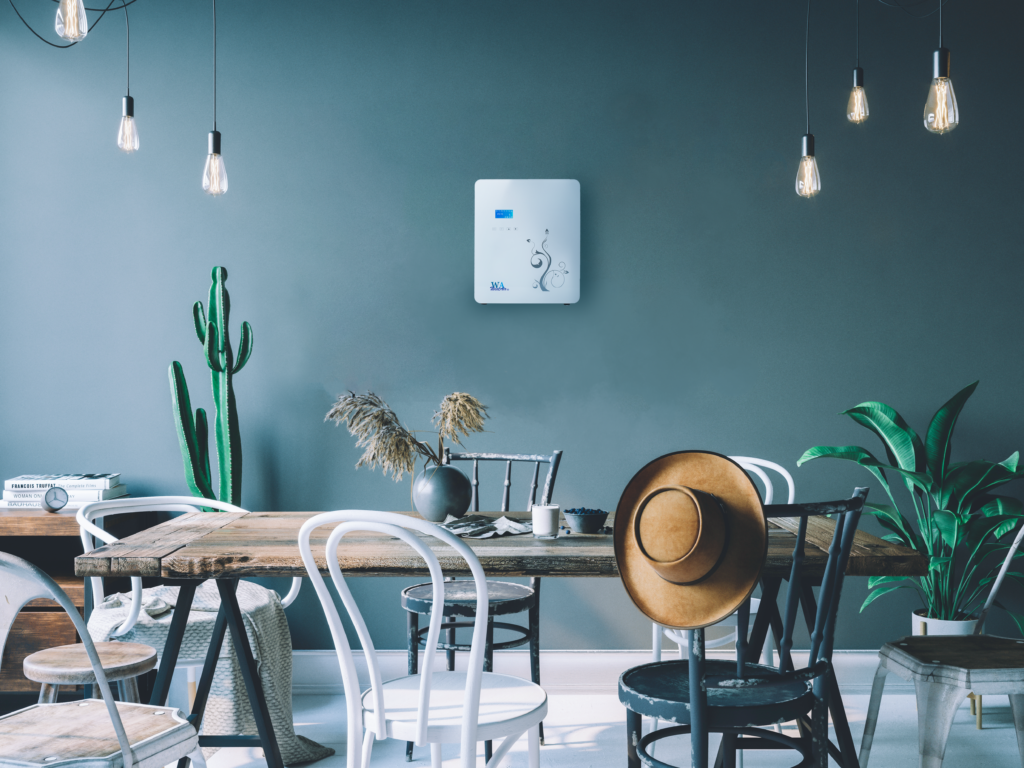 Scent Marketing can feel like it's out of reach for smaller brands, but we help people just like you get started everyday. AeroWest makes Scent Marketing accessible by simplifying the process and offering a range of accessible options.
AeroWest is an expert in creating high performance scent marketing for hotels. We maximize all aspects of your scent marketing strategy, including:
Well-matched signature scent creation
Optimal fragrance placement
Even, consistent fragrance dispersal
Simple to high-tech scenting systems (for HVAC systems to elevators)
Full-service
We offer many cost effective scent devices, both large and small. AeroWest employs micro-nebulization technology, in which fragrance molecules are atomized into extraordinarily fine nanoparticles. The atomized fragrance allows scent to be dispersed further, more evenly, and linger in the air longer for a consistent, long-lasting fragrance. Choose from wall-mounted scenting devices or a nebulizing diffuser installed directly into the HVAC system.
"A good scent enhances the wood that you're standing on, the stone on the wall. It's almost as if the environment is breathing with you. It becomes intrinsic to the space." – Caroline Fabrigas, CEO Scent Marketing
Get in Touch With Us!
Gain the competitive advantage & reap all the rewards of Scent Marketing. Contact us to get started.
Choose from a variety of products and 50+ fragrances to allow you to get started affordably and effortlessly.