Scenting Services for Businesses
Scenting services have grown in popularity among America's top brands, especially after the COVID pandemic. But, what is a scenting service and why do you need it? Interestingly, there is a large body of research supporting the MANY reasons that virtually every business can benefit from scenting services. Let's break it down!

Good Business Scents
Are there certain scents that are good for businesses? How do you know which scent to choose? The options can be overwhelming. We work with hundreds of companies including hotels, casinos, universities, retail stores, sports stadiums, to select the perfect scent for their facility. The secret is this:
Think about your brand. Think about your customer base. What is the message you most want to convey to your customers? What vibe do you want to espress? Make sure the scent you choose expresses your brand. Use that fragrance to create the emotions you want your customers to feel.
For example, if you're a gym owner, consider your mission. Let's take a well-known gym like Planet Fitness. Their mission is: "to enhance people's lives by providing a high-quality fitness experience in a welcoming, non-intimidating environment, which we call the Judgement Free Zone, where anyone – and we mean anyone – can feel they belong."
They want to create a "welcoming, non-intimidating environment" and a sense of belonging for everyone. At the same time, they strive to create a "fitness experience". So, we would consider fragrances that are inviting, inclusive, and motivating. According to scent marketing research, we know that peppermint essential oil improves exercise performance and reduces fatigue.
Scent Marketing Helps You Achieve Your Business Goals
Scent marketing is the strategic use of scent at specific customer touchpoints. Using the right scent creates an instant connection with your customers. dramatically improves how your customers feel about you.
Scent marketing is NOT spraying store-bought air freshener and calling it a day! It's not new-agey voodoo. It's based on scientific research and elevated to perfection by trained "noses".
In its truest form, scent marketing is the strategic use of scent to achieve the following:
Skyrocket customer satisfaction
Capture customer loyalty
Make your space smell heavenly
Be unforgettable
Be perceived as luxury & high quality
Increase sales
Increase time spent in your facility
It's an often untapped but powerful way of uplifting your customers & building lasting connections.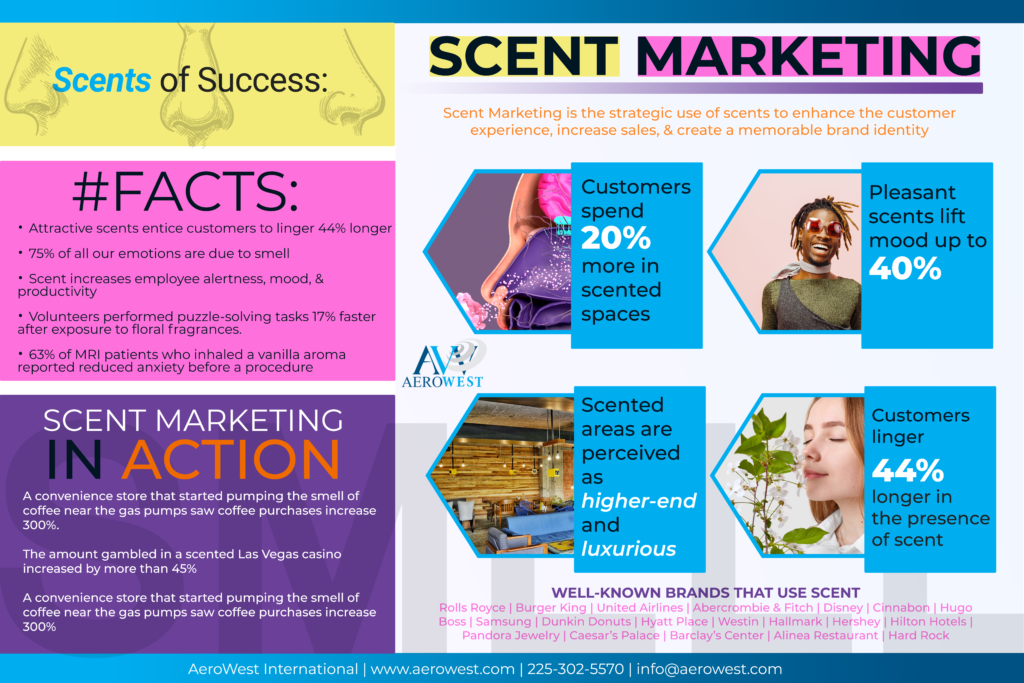 Scent Marketing Tricks
Scenting services or scent marketing is used by brands across all industries. A famous example of scent marketing is Cinnabon.
Cinnabon goes out of its way to make sure that you can smell their cinnamon at its maximum potency, and that they can reap the awards of our positive, emotional reactions to it.
This is FAR from a coincidence. In order to ensure maximum potency, Cinnabon refrains from grinding the cinnamon it imports from Indonesia until it reaches US soil, says Bon Appétit. And the reason that you'll always see a Cinnabon oven located towards the front of a cafe?  That's store policy developed after Cinnabon tried placing their ovens further away from customers and watched as sales dropped dramatically.
In some franchises, Cinnabon employees heat sheets of cinnamon mixed with brown sugar in the oven to ensure that Cinnabon's signature cinnamon scent is wafting vigorously enough. And to ensure that its enticing aroma never dies out, Cinnabon employees bake cinnamon rolls at least every 30 minutes in ovens with the "weakest hood possible" within legal recommendation, so that the smells can escape more easily.
Other sneaky ways that businesses have used scent marketing:
A convenience store started pumping the smell of coffee near gas pumps & coffee purchases increased by 300%
The amount gambled in a scented Las Vegas casino increased by more than 45%
In Japan, Burger King used the smell of grilled meat to increase the appetite of consumers and promote the tasty burgers. In its stores, ventilation ducts pump the enticing scent of the Whopper throughout the space and cultivate a strong appetite in those who are ready to eat.
Abercrombie & Fitch was notorious for the amazing fragrance they used throughout their stores by nebulizers.
Rolls Royce fills new cars with a luxurious new car smell & refreshes the new car scent whenever a car comes to their service centers
Starbucks adds the scent of coffee to the HVAC system to remind customers to buy their coffee.
Hyatt hotels use a signature scent called "Seamless" to express its brand. They use vanilla, musk, light florals & blueberries in 300 hotels across the United States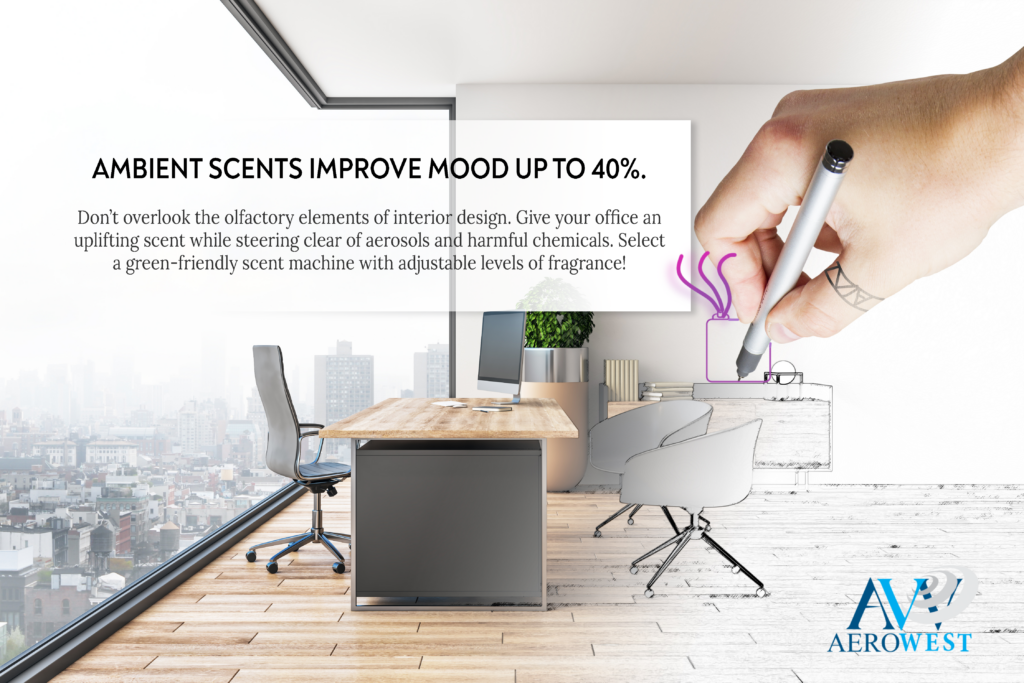 Why Choose AeroWest Scenting Services
AeroWest helps you choose the best scent to create the right vibe for your customers. We craft signature scents so that your fragrance is uniquely yours. After surveying your facility, we'll make sure you have your choice fragrance distributed at each customer touchpoint.
We offer a variety of professional scenting machines to evenly disperse fragrance throughout your facility. Our scenting devices are highly versatile, allowing you to set your fragrance intensity to your needs. We can program the scent to diffuse around the clock or only during business hours.
We keep your fragrance consistent all month long. Our monthly service ensure you never run out of fragrance and you don't have to do it yourself.
Unlike other scent marketing firms, we also offer deodorizing service to get rid of odors and make sure you don't have a mix of strange odors.
AeroWest is a woman-owned small business with a reputation for excellence. Based in Baton Rouge, LA, we provide service across the United States.