The Importance of Communicating Cleanliness
As customers are slowly returning to their favorite public places, business owners are ramping up their cleaning efforts. The COVID-19 pandemic has definitely changed our perception of the world around us. We're hesitant to touch objects in our vicinity. We find ourselves hesitant to shake hands and even to breathe the same air. What can businesses do to reassure customers & adapt?
Best Ways to Communicate Cleanliness Amid Heightened Concern
What is the best way to show that your business is clean and safe for customers to return? Business owners across the world are becoming more transparent with their cleaning procedures and protocols. With all the uncertainty regarding our surroundings, consumers are demanding higher standards of sanitation. In fact, a recent survey conducted by P&G Professional, shows that over half of those surveyed want to see visual evidence of cleanliness in the form of pamphlets or signage. They want to know what products businesses are using and what they're doing to protect us. Therefore, business owners must find creative ways to communicate cleanliness.
Hoteliers, restaurateurs, and business owners across all industries are learning how to communicate cleanliness. Agnelo Fernandes, CSO and EVP of the luxurious Terranea Resort in California says "I don't think [our guests] would have been worried about hand-sanitizers up until about three weeks ago. … At this point, we feel that (guests) knowing we are going above and beyond is critical. People are going to remember us by how we message them, how we treat them and keep them in the loop,".
The Most Important Point is This:
Don't leave your customers wondering if you're taking this seriously & working to protect them. Let them know you are. Put it out there. Practice transparency. We're accustomed to keeping our cleaning procedures behind closed doors. But, the world has changed. Your customers are looking for indicators of cleanliness & hygiene practices. Businesses who deliver not only cleanliness but the PERCEPTION of cleanliness will gain the confidence of their customers.
According to the P&G survey, the top indicators of cleanliness include odors & bathroom cleanliness.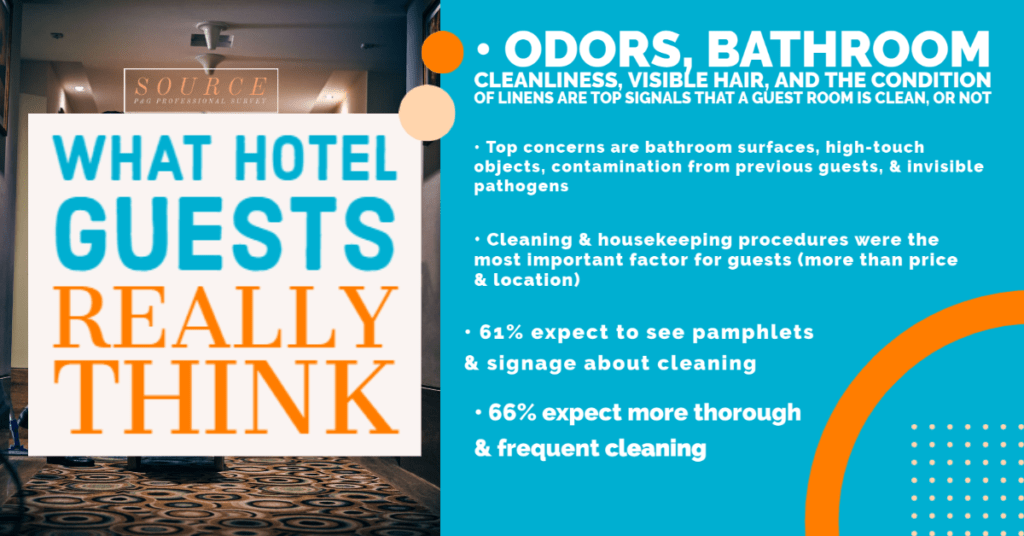 Use of Scent is Reassuring Customers During COVID
It's not enough for our facilities to just be sanitary anymore. Now, consumers need to SENSE the cleanliness. Using fresh, clean smelling scents is a research-based, proven means to express cleanliness and evoke a sense of reassurance in our customers. No matter how clean your business is, if your customers detect odors, they will think it's unsanitary and unsafe.
Make your customers' first impression of your reopened facility be a breath of fresh air.
Chicago-based interior-design executive Cheryl Durst suggests that aroma could become just as important as minimal decor, distanced seating, touchless entry, and plexiglass shields. Scent has been elevated to a new level of importance amidst the coronavirus recovery. The smell we encounter upon entering a public space will form our first impression of its hygiene and safety. Now, more than ever, bad smells can hurt your business. Read more about the connection between odor and customer perception.
The Best Clean Scents for Reassuring Customers
Scent is one of best and most cost effective ways we can show our customers that we're keeping them safe. Smells speak louder than signs or pamphlets. It's something your customers can experience and take in via their senses. Smell is the strongest of all our 5 senses. If your facility looks AND smells clean, customers will be able to relax and enjoy themselves. Look for light scents that won't overpower or appear like you're trying to mask odors. If you do have odor concerns, resolve them ASAP.
Enhance the cleanliness of your facility by using a fresh, light, clean scent. Laundry scents and light florals are great. Look for essential-oil based scents. Our company, AeroWest, is a professional odor control & scenting service company. Let us create a custom air freshening solution just for you. Professional scented environments smells better, lasts longer, and helps you stand out from everyone using store bought spray air fresheners. Get your free trial today!
The Spruce recommends these widely available air fresheners. Try fragrances that align with this years fragrance trends.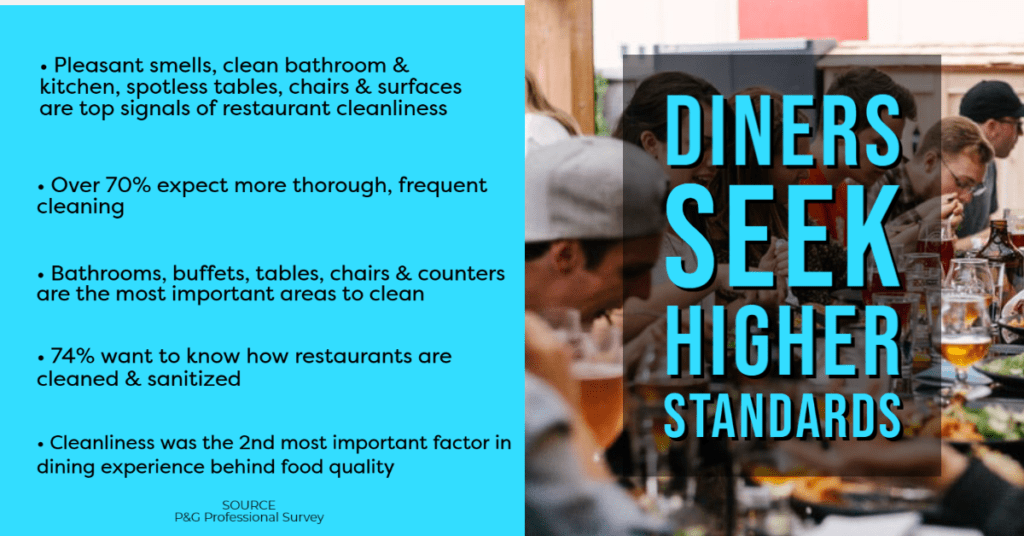 Signage for Communicating Cleaning Protocol
Your customers are looking to you for reassurance during COVID-19 recovery. Let them know how you're working to protect them. Inform them of your cleaning protocol & let them know they are in the right place. The most transparent organizations are using custom signage indoors & outdoors of reopening businesses. Customers want to see signs and pamphlets describing a company's disinfecting protocol, safety guidelines, and new operating procedures such as curbside pickup and hours of operation.
Keep your Restrooms Clean
Restroom cleanliness speaks volumes to your customers. Check out these tips eliminating odors in the restroom & these tips for keeping restrooms clean.
COVID-19 Communication
How you respond to the challenges and fears surrounding COVID-19 will speak volumes to your customers about how much you care. It's important to keep them informed. Your job is not only to keep your facility safe & clean, but also to give the impression of clean. Contact us for a free trial of our scenting service. We're helping businesses across the country reassure and comfort their customers.
Contact Us For a Free Trial of Odor Control & Scenting Services