Odor Control and Restroom Services for Airports
"Restroom cleanliness is key to passenger experience." – Airports Council International

For airport passengers, the cleanliness of airport restrooms speaks volumes about the overall cleanliness of the airport. Airport restrooms are frequently the first and the last impression a passenger receives within a city. If the restrooms are smelly and unkempt, it will harm the reputation of the airport and even the airlines.
Airport restrooms are extremely challenging to maintain. Studies show that airport restrooms are typically used between 50-75 times in between cleanings. That is a lot of people, which means lots of introduced germs and odors.
The very nature of airport restrooms creates a breeding ground of bacteria and odors. Passengers from all over the world are in close proximity and then squeeze into small stalls, one after the other. Hundreds of people rush to the restroom, hover over the toilet seat, and touch the same surfaces.
Nice Restrooms Skyrocket Revenue, Ratings, and Passenger Experience
When restrooms are clean, the overall cleanliness ratings of the airport are through the roof. It's all about perception.
If the areas that passengers expect to be the dirtiest are surprisingly fresh and clean, they see the entire airport in a new light. Passengers are more likely to spend more money in your food and beverage locations.
Airport Odor Elimination and Hygiene Services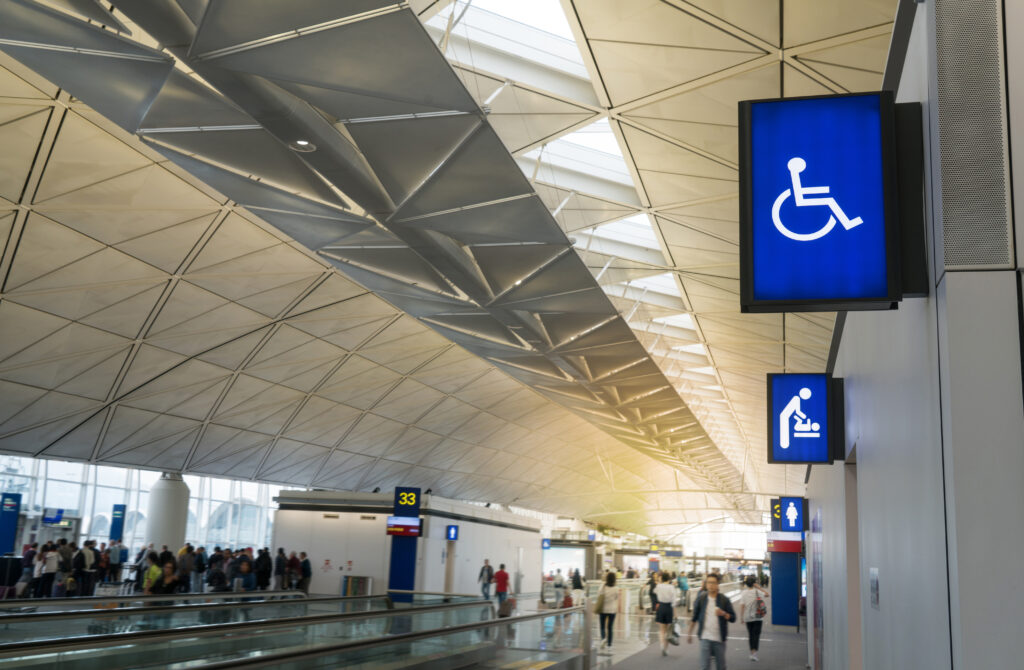 Professional odor control and hygiene services deliver many benefits to airports and passengers. For decades, AeroWest has served America's airports with specialized airport odor control and hygiene services. Our service technicians provide customized, reliable, and top quality service at affordable prices. We help you maintain exceptionally fresh and clean restrooms around the clock.
AeroWest's Odor Control & Hygiene Services Skyrockets Cleanliness Ratings
Instantly improves passenger perception and experience
Increases airport dwell time
Increases customer spend
Saves money and labor for the airport
Increases airport revenue
AeroWest's full-service odor control program includes:
24/7 odor protection
Automatic cleaning, deodorizing, and descaling of toilets & urinals
Fresh, clean scents
Allows customers to disinfect their own toilet seat before use
Touch-free soap & sanitizers
Luxury lotion hand soap
Powerful scenting systems
Urine absorbing & odor neutralizing floor mats
Facility-wide odor removal and air care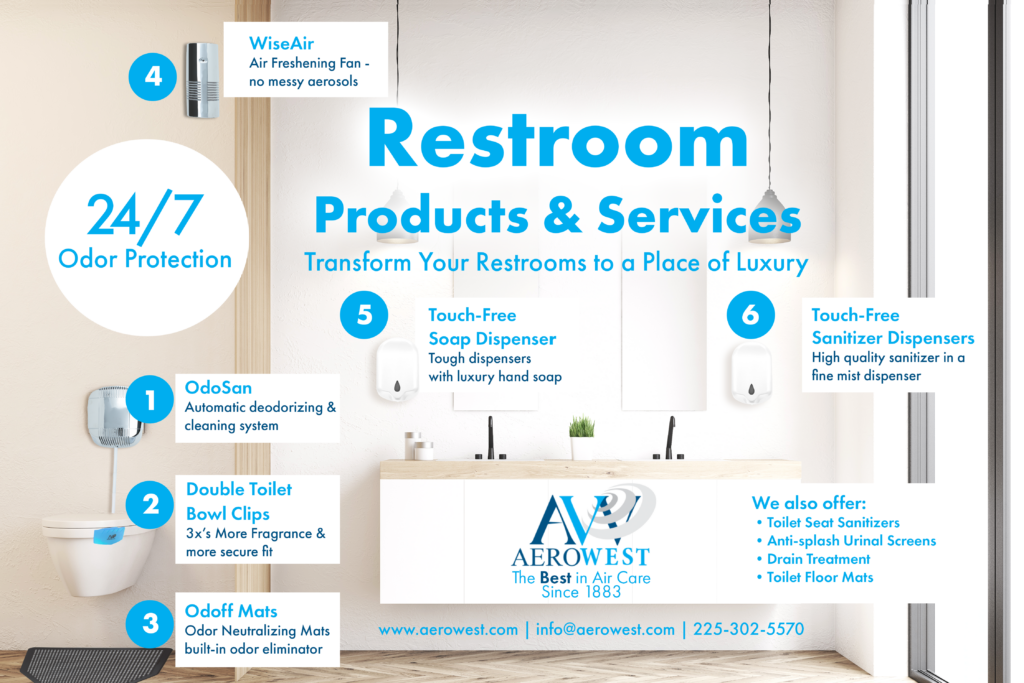 Founded in 1883, AeroWest is a certified Woman-Owned Small Business & ISSA Member. Unlike larger facility services companies, AeroWest provides a personal, customized touch. As odor control specialists, we take the time to ensure your facility smells amazing. We keep your scent machines and hygiene product filled, clean, and in perfect condition with our 30-day service.
To learn more about our services, visit our Products & Services page or give us a call today and speak directly to one of our friendly staff members (never an annoying answering service).
Explore our fragrance collection or request a signature scent for your facility.