Introducing AeroWest's Double Toilet Bowl Clip
Our new & improved, patented toilet bowl clips are the first DOUBLE toilet clips on the market. Our innovative two-sided design provides unique benefits not found in any other clip:
3X's MORE FRAGRANCE – Increased surface area of the clip provides 3 times more fragrance than a traditional clip
SECURE FIT – Securely fits on toilet rim in a saddle-like fashion, preventing the clip from falling into the toilet, costing expensive plumbing issues
GREAT FRAGRANCE OPTIONS – Comes in 5 popular scents
VERSATILE – Aside from toilets, can even be clipped on restroom partitions, trash cans, under sinks, toilet tank, desks, tables, cabinets, drawers, & more
The Story Behind Our Double Toilet Clip
Our company has been combating restroom odors for more than 100 years & you wouldn't believe the things we've encountered over the years (but that's another story!). We've seen & smelled it all and we've perfected solutions to the issues our customers have encountered.
Many of our customers came to us with concerns over their traditional toilet clips. Here's what was happening: Traditional toilet clips, which are made with small one-sided clips, were falling into the toilets & getting flushed, causing expensive plumbing issues. The second issue was that the clips would only smell for a few days and the fragrance would fade away.
Our research and development team came up with a great, new idea for toilet clips & tested it out. We found that making a double-sided toilet clip solved both of these common issues & more!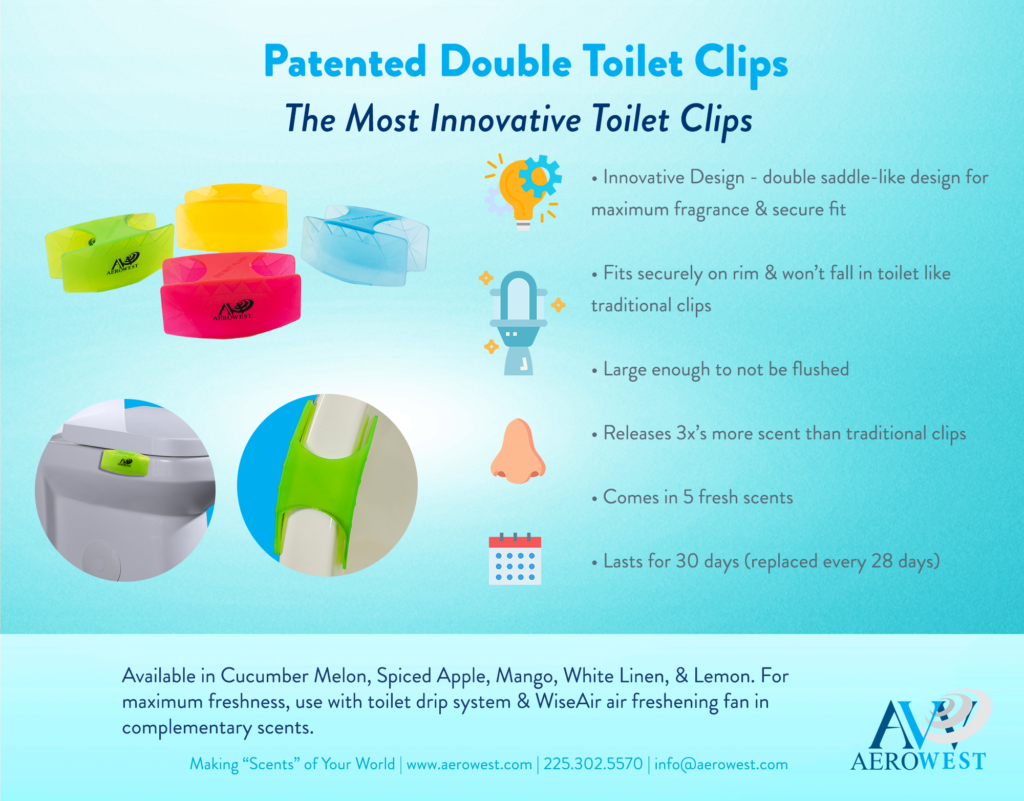 Mix and Match Toilet Clips with Other AeroWest Products
Pair the AeroWest with the same or complimentary fragrances in the WiseAir Air Freshening Fans, Urinal Screens, Diamond PSU, & AeroWest or OdoSan Drip Fluids
Fragrance Options for the AeroWest Double Toilet Clip
Cucumber Melon
Lemon
Mango
Spiced Apple
White Linen
More coming soon!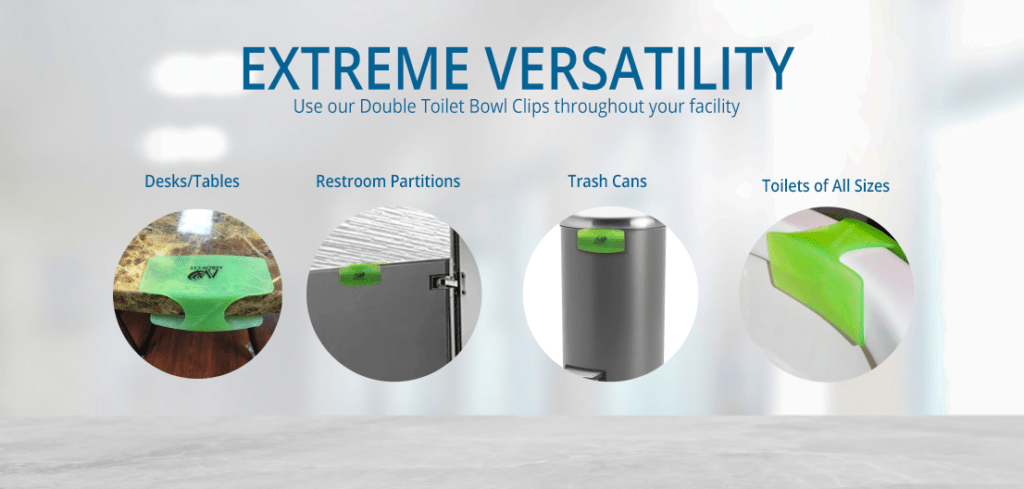 FOR MORE INFO, CALL AEROWEST AT 225-302-5570 or e-mail info@aerowest.com.