OdoSan: Automatically Deodorizes & Cleans Toilets and Urinals
OdoSan is the easiest way to keep your toilets & urinals fresh and clean without constant scrubbing. Designed for busy cleaning professionals, OdoSan works around the clock, so you don't have to.
This small but mighty drip system continuously dispenses a 4-in-1 solution into the flush water. OdoSan fluid cleans and counteracts bad odors by attacking odors at the source, preventing scale formation and providing a light fragrance in the restroom.
4-in-1 OdoSan Solution contains:
Odor Neutralizer – neutralizes odors at the molecular level, directly at the source
Cleaner – cleaning agent cleans porcelain surfaces of the bowl and reduces biofilms, which in turns reduces bacterial growth and associated odors
Descaler – descaling agent reduces and prevents scale buildup
Fragrance – Choose from dozens of high-quality essential oil based fragrances to lightly scent the restroom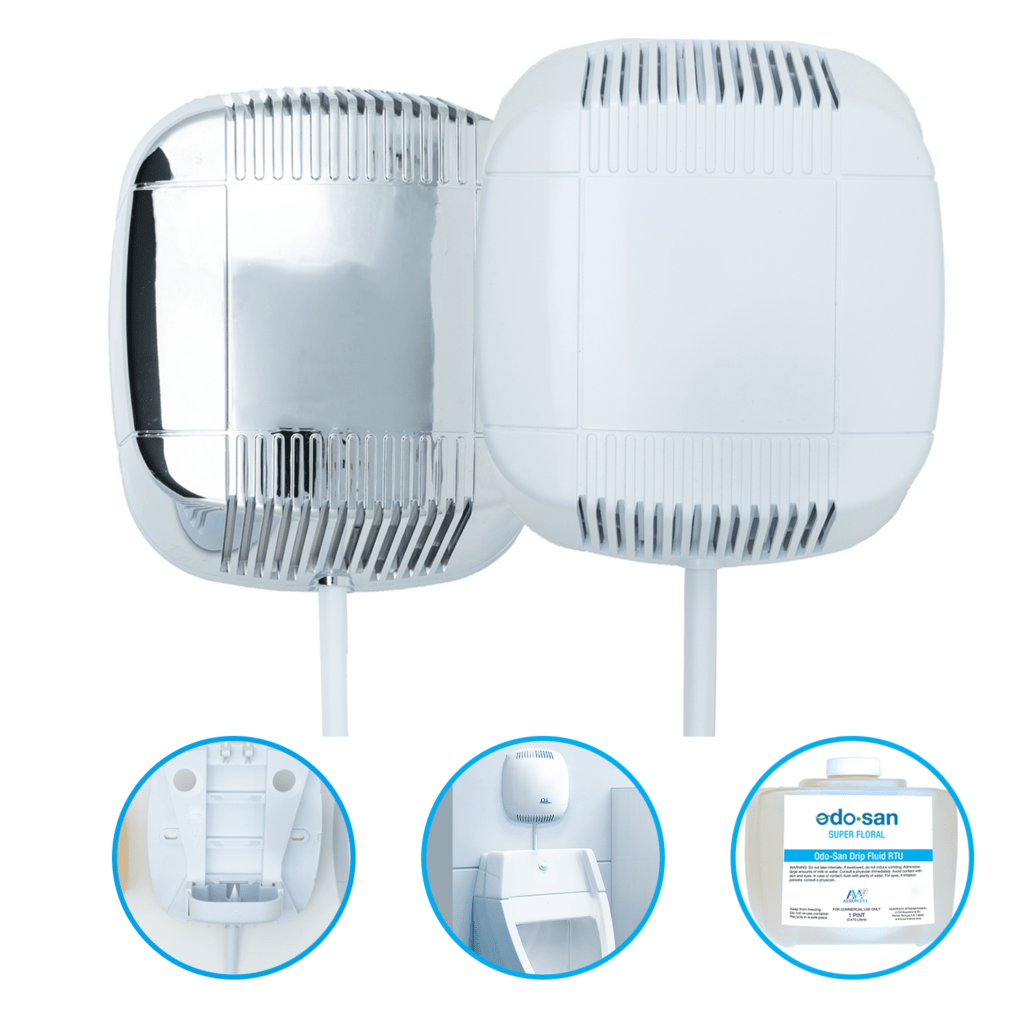 OdoSan was developed to meet the needs of public facilities such as:
Hospitals
Office Buildings
Hotels
Restaurants
Stadiums
Convention Centers
OdoSan offers the most economic, effective, and easily maintained service program to meet this market demand.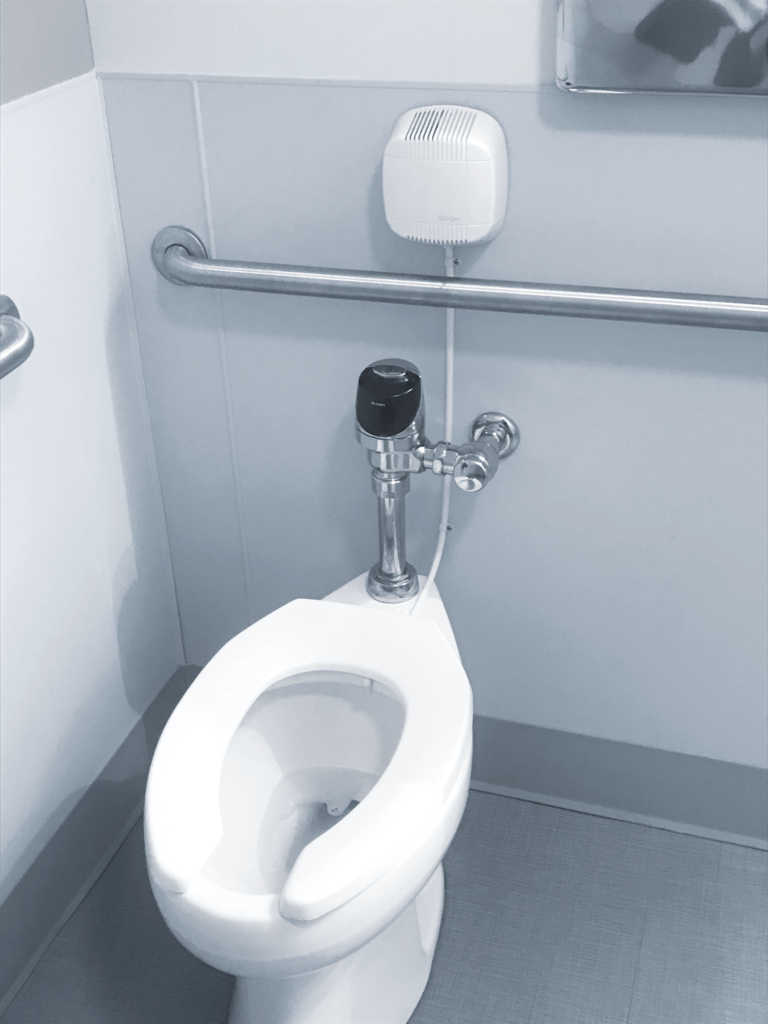 How Does OdoSan Work?
OdoSan features a series of louvers in the top and bottom of the dispenser. These louvers promote upward air flow through the dispenser, across a wick saturated with OdoSan fluid. This airflow picks up a light fragrance from the fluid that circulates throughout the restroom. Liquid transfer is achieved with a state of the art, plastic wick which provides a uniform dispensing rate for the fluids from the dispenser to the flush water. The fluids are absorbed up the 2 outer legs of the wick. When the wick is saturated, the fluid goes down the center leg into the stainless steel tube into the flush water.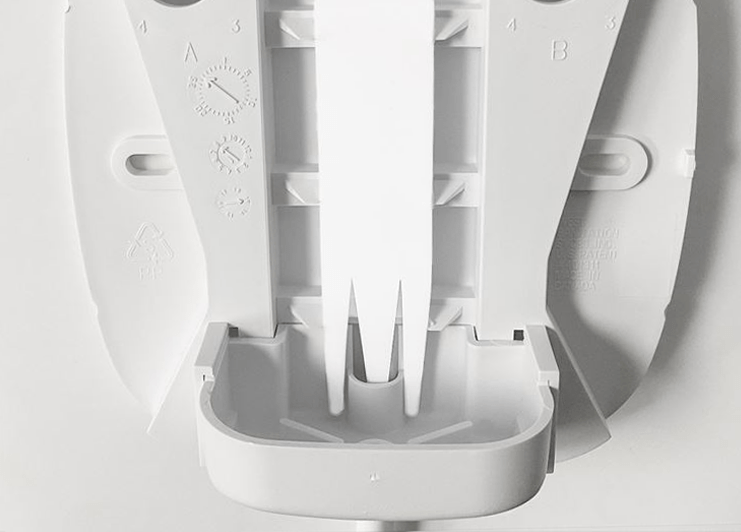 For maximum fragrance, we recommend using OdoSan with our Wiseair Air Freshening Fan.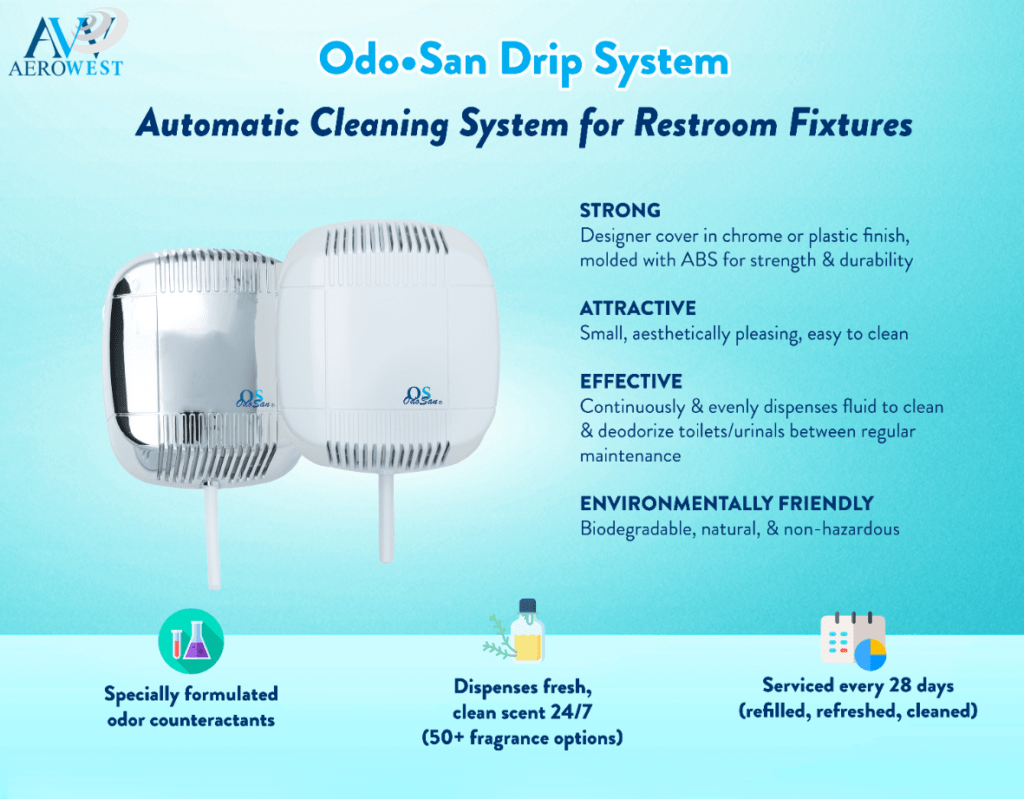 Why Choose OdoSan?
OdoSan creates a higher level of hygiene in the restroom, reducing time spent maintaining toilets and urinals. It also provides the following benefits:
Simplifies restroom maintenance
24/7 Odor Control
Saves time and money
Month long cleaning in between janitorial service
Multifunctional: Cleans, Deodorizes, Descales
High quality essential oil fragrances available
Small, attractive unit (available in White or Chrome)