ALCOCLEANSE – TOILET SEAT SANITIZER

The AlcoCleanse system provides toilet users the means to quickly clean the seat before use. Quick, easy-to-use and fast drying, the wipe is the most hygienic solution when using public restrooms. The toilet seat cleaner gives the user the same confidence as using one at home. Made of 70% ethanol and skin conditioners, it dries immediately leaving the toilet seat clean and 99% bacteria free.
This service eliminates the need for seat covers and saves time and labor. No more toilet paper all over the floor. Your service representative installs free, loaned dispensers and re-fills them every 28 days.
•

Toilet Seat Sanitizer dispenser is installed in each stall, allowing restroom users to sanitizer before they sit

•

Positive Perception: Customers correlate restroom cleanliness with the products used. AlcoCleanse communicates the positive image you want.

•

Sanitizing with AlcoCleanse removes up to 99% of germs

•

No more hovering over the seat!

•

No messy toilet seat covers & toilet paper all over the floor

•

Simple & quick to use

•

Helps you maintain clean, sanitary restrooms

•

Safe and gentle on skin

•

Reduces urine on the floors from hovering

•

Reduces plumbing repairs by eliminating the need to "line" the toilet seat excessively with paper towels, toilet paper or paper seat covers

View AlcoCleanse Product Sheet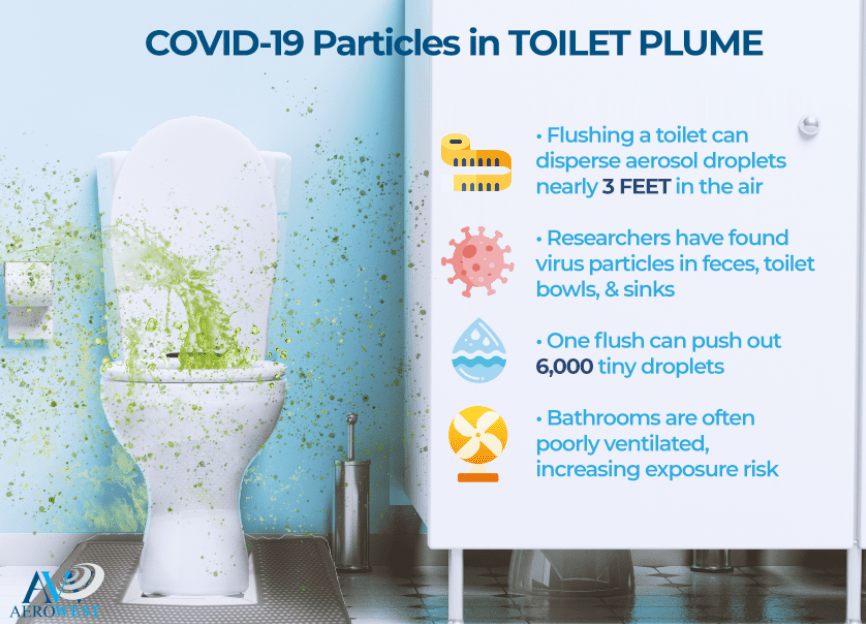 Have you heard of toilet plume?
Above is an illustration showing why you should sanitize the toilet seats. Check out our recent article on toilet plume and COVID-19 to learn more!
To get Alcocleanse or add it to your existing service, call us at 225-302-5570 or e-mail info@aerowest.com