Aero F.O.G.: New Product for Drains, Grease Traps & Lift Station
Aero F.O.G. Drain Fluid rapidly liquifies fats, oils, & grease from pipes, drains, grease traps, & lift stations. AERO F.O.G. dramatically outperforms other FOG removal products on the market in terms of efficiency, effectiveness, price, & ease of use. This product effectively eliminates the problems associated with FOG such as caking, plugging, and bad odors. Contains our most powerful & time-tested odor neutralizer, Odoff, to attack odors at the source.
What is F.O.G.?
Fats, oils & grease are often referred to as FOG. FOG enters the sewer system when poured down drains in homes, restaurants, industry and public facilities. FOG issues are often seen in:
Restaurants
Hospitals
Hotels
Daycares
Nursing Homes
Any place with commercial kitchen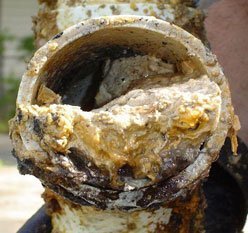 As a byproduct of cooking, FOG is usually found in:
Baked goods
Butter, lard, shortening
Cooking oils
Cooked meats
Food scraps
Fried foods
Gravy
Mayonnaise
Salad dressings
Sauces
Why is F.O.G. problematic?
Fats, oils and grease are often disposed of improperly during food preparation and cleaning commercial kitchens. When poured down the drain, FOG can build up, blocking sanitary sewer lines and causing horrible odors. Improper disposal of FOG can lead to:
Sewage backup in floor drains & sinks
Business closure for expensive repairs
Exposing people to untreated sewage in your establishment and in nearby businesses and homes
Sewers that overflow onto roadways and property, eventually flow into local waterways, causing contamination
Legal troubles with local municipalities
Aero F.O.G. Use & Description
• Fast working
• Liquefies & detaches FOG from top, bottom, & sides of drains
• Prevents re-depositing of FOG – once FOG detaches from pipes, it can never stick to it again
• Greatly reduces maintenance costs & the need for jetting
• Uses chemical dispersants to chemically break up FOG into particulate
• Contains Odoff, our most powerful odor neutralizer to eliminate odors at the source
• Reduces sludge build-up
• Increases system efficiency & improves waterflow
• Prevents grease clogs from forming
For more info, give us a call at 225-302-5570, e-mail us at info@aerowest.com or complete the form below.