How to Select the Perfect AeroWest Fragrance for Your Facility
"A good fragrance should have a certain personality that makes people identify the scent with you." – Shakira
For 140 years, AeroWest has delivered powerful scent solutions specifically designed for business environments. Selecting a fragrance is a fun and important part of your AeroWest service. The right fragrance improves facility perception, uplifts and inspires customers, and motivates staff. But which fragrance should you choose for scenting your workplace?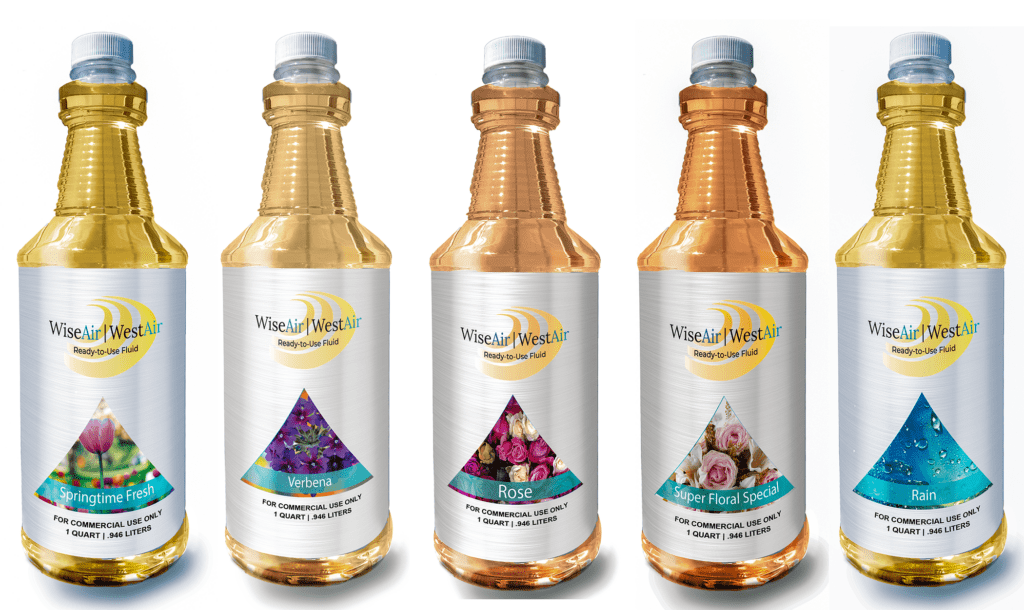 What Makes A High Quality Fragrance?
AeroWest searches the world to bring our customers the very best fragrances. We offer 50+ fragrances to fill your facility with an amazing scent, no matter the size. Great fragrances provide memorable first impressions and enhance facility perception. Our fragrance collection is divided into distinct categories to guide you in selecting your perfect scent. All AeroWest fragrances contain high quality ingredients, rigorously tested for performance and duration. No matter which AeroWest fragrance you choose, you can be sure that you'll receive high quality, proven formulations that provide long-lasting scent.
Quality of the Ingredients:
Fragrance quality is crucial to a successful professional air care program. AeroWest fragrances feature high-quality essential oils artfully blended and well-balanced.
Rigorous Testing & Development:
We want you to be 100% satisfied with your choice. Therefore, we only offer fragrances that have been put through months of rigorous testing to ensure the fragrance meets our high standards and functions perfectly with AeroWest dispensers.
Fragrance Duration:
Every scent in our line must provide a consistent level of fragrance throughout your service period. Therefore, you can have confidence that whichever fragrance you choose will last a minimum of 30 days.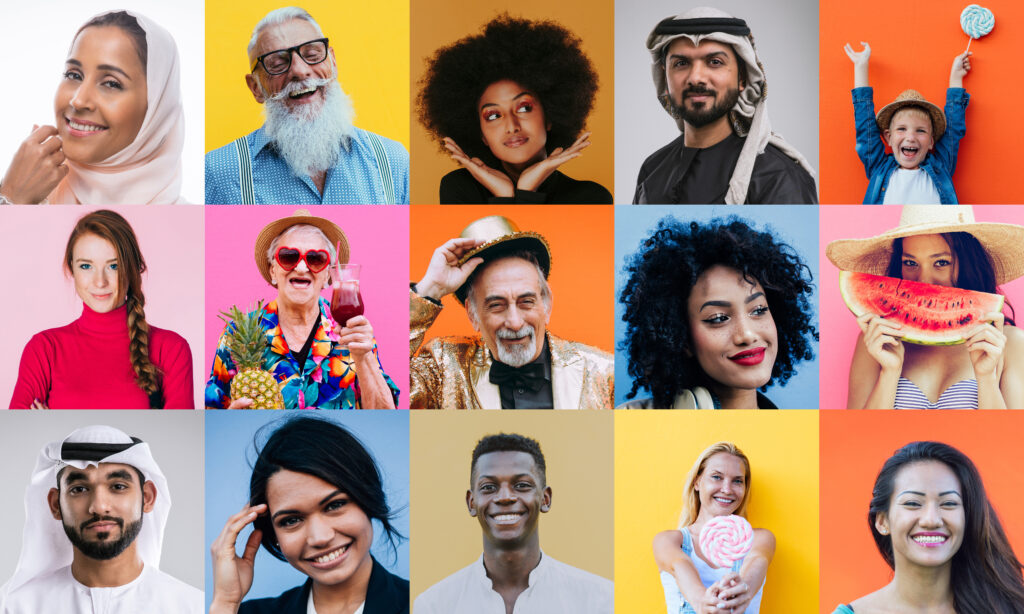 Important Considerations for Choosing a Fragrance
Studies show that scent marketing (or the strategic use of scent to achieve your business goals) works best when the fragrance is aligned with your brand. Here are other important factors to consider when choosing a fragrance:
Identify Your Goals:
Choose a fragrance that aligns with your business goals.
Ask yourself the following questions: What do you want to accomplish in your business? How do you want to be known? What kind of atmosphere do you want to create?
What is the Personality of Your Brand?:
If your brand were a person, what would they be like? Fun and edgy? Glamorous & sophisticated? Outdoorsy? Wholesome & family-oriented? These questions will help you choose a fragrance that expresses who your company is.
Who Are Your Ideal Customers?:
You want a fragrance that appeals to your customers. Look for a scent that draws them in as they're walking by.
Ask yourself these questions: Are they young? Middle-aged? Older? Are they value or luxury buyers? Predominately male/female? Families?
How Do You Want Your Customers/Staff to Feel?:
It's important to choose a fragrance that puts off the right vibes for your brand.  Do you want your customers/staff to feel energized? Peaceful? Inspired?
If you're struggling with these questions, talk with someone in your Marketing department and brainstorm together. All of this information will help you pick the right scent with our fragrance categories.
We use the following fragrance categories to make it easier for you to choose a fragrance that suits your business!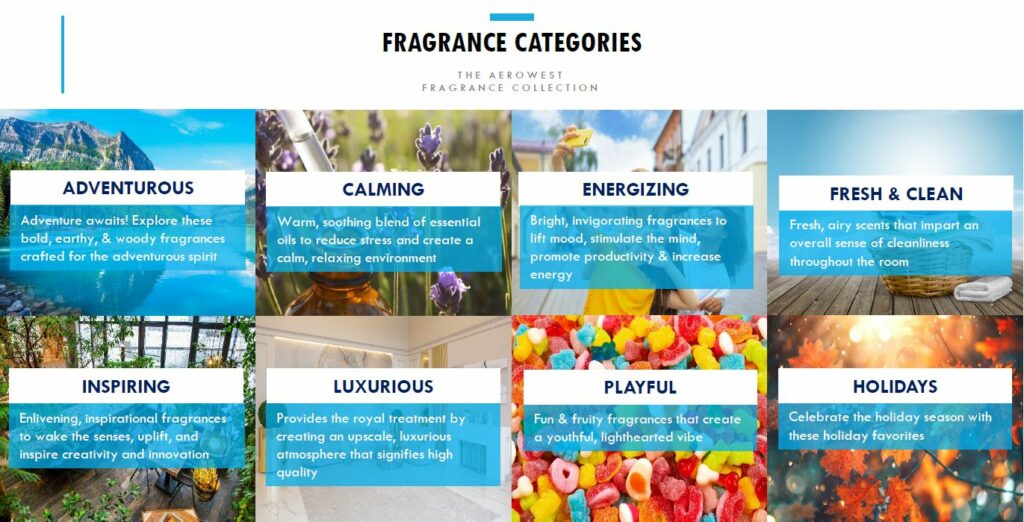 Fail-Proof Fragrances
Need some specific recommendations to get started? Any of our Popular Picks are a good place to start. Try a sample for free and let us know what you think!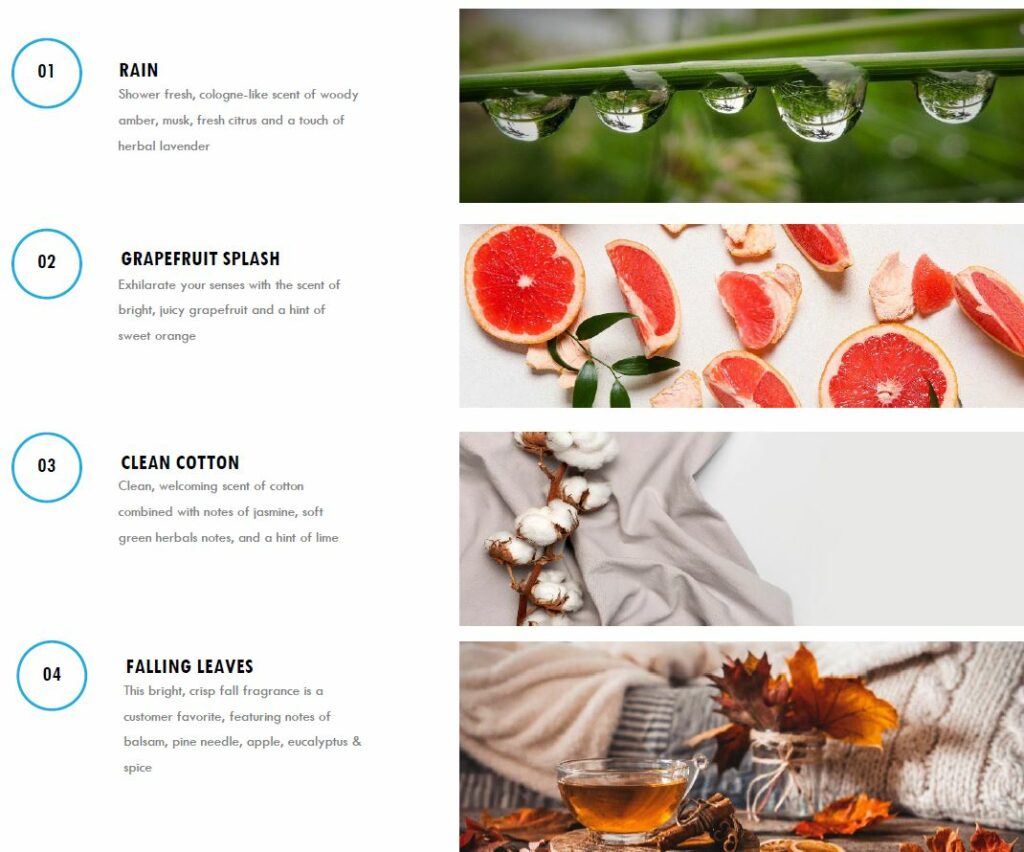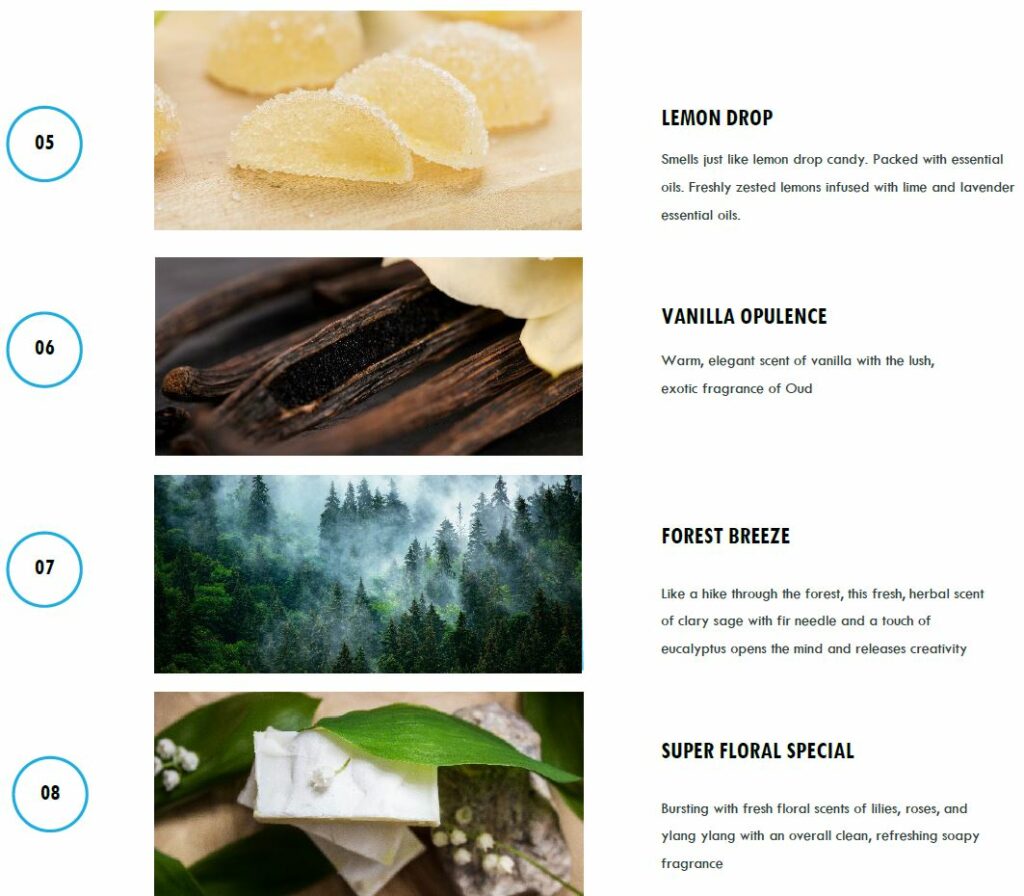 We Make Signature Scents!
Still having trouble finding the right scent? AeroWest offer Signature Scent Creation. We create one-of-a-kind scents for our customers who want something more exclusive. We guarantee a "scent logo" you'll love!
Considerations for Creating Your Own Fragrance
Similar to the way music notes create a song, fragrance notes create a well-rounded fragrance. Fragrances are composed of 3 layers of notes (as seen below in the Fragrance Pyramid).
Top Notes: Provide the "first impression". Top notes fade away quickly, revealing the heart notes. Common top notes include citrus, light fruit and herbs
Heart Notes: The "heart" of the fragrance persists one the top notes fade away. These are often floral, fruity or spicy. Common heart notes include: lavender, rose, geranium, nutmeg, lemongrass, jasmine and neroli.
Base Notes: Provide the rich, lingering aroma of a fragrance. Appears last, after the top and heart notes. The base note gives the lasting impression of a fragrance. Common base notes include: cedarwood, sandalwood, vanilla, amber, musk and patchouli.

Get Started Today
Explore our fragrances here or print an AeroWest Fragrance Catalog to share with your team. Check out Fragrance Trends of 2023 here.
Choosing a fragrance is fun! And remember, you can change things up. Let your AeroWest Service Tech know which fragrance you want at your next service visit. Questions? Get in touch with us at www.aerowest.com/contact-us or give us a call at (225) 302-5570.